One of the most important pieces of advice for finishing the trek on the Himalayan trekking trails is to consume high-quality meals. Given that we must walk distances to fulfill our destiny, we must consume food that is sufficiently nutrient-dense. The food options for treks in Nepal's Himalayas, including those in the Everest, Annapurna, Langtang, and Manaslu regions, are remarkably similar. Let's talk about the food you can find when trekking in the Himalayas and the eating habits you can adopt while walking in Nepal's Himalayan area or in high-altitude areas.
Foods During Trekking in Nepal
While during the journey, tourists can find a wide range variety of Nepalese food items in guest houses, homestays, or local restaurants with some international foods as well.

Here is a list of some foods during trekking in Nepal.
Breakfast at Trekking Routes of Nepal
Breakfast is the first meal of the day and it's very important to have breakfast propely to start a day on a good note. Generally, you will have breakfast at around 7 am during trekking in the Himalayas, which helps you reach your destination on time. The breakfast menu in the trekking region of Nepal mainly includes varieties of toasted bread, eggs, beads, pancakes, and Porridges with coffee, tea, hot lemon, or juice.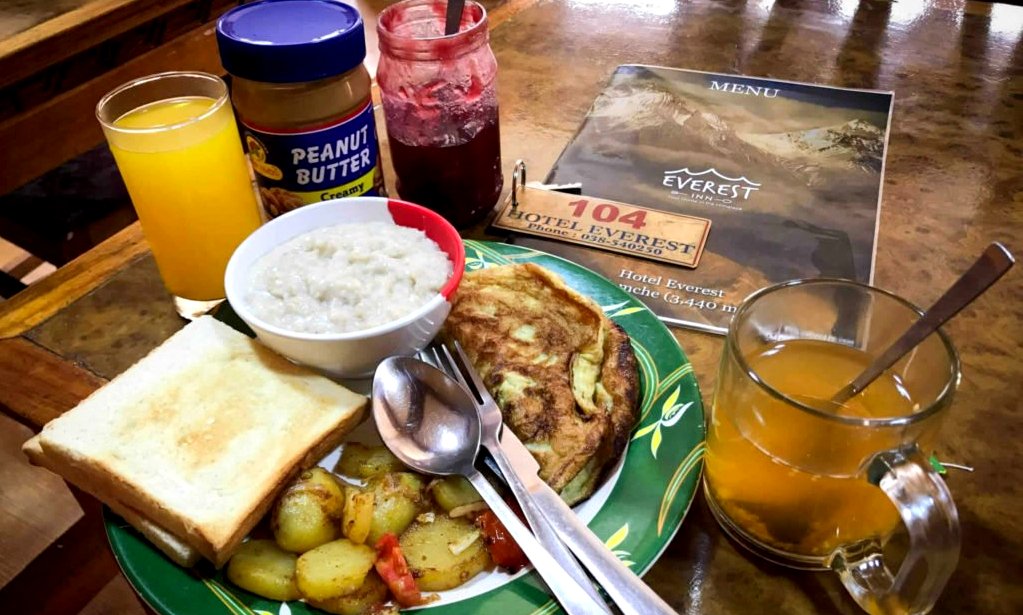 Lunch at Trekking Routes of Nepal
Luch is always been the primary course of food in Nepal. Dal Bhat is the most popular lunch on the trekking routes of Nepal. Dal Bhat mainly includes plain rice, lentils (dal), vegetable curry (Tarkari), and pickles(achar). Also, on the same penny, you can refill these ingredients as much as you would love to add. Besides this, you can have varieties of lunches on the trekking routes of Nepal, which mainly includes mo:mo, thukpa, noodles, spaghetti, pizza, and sandwiches.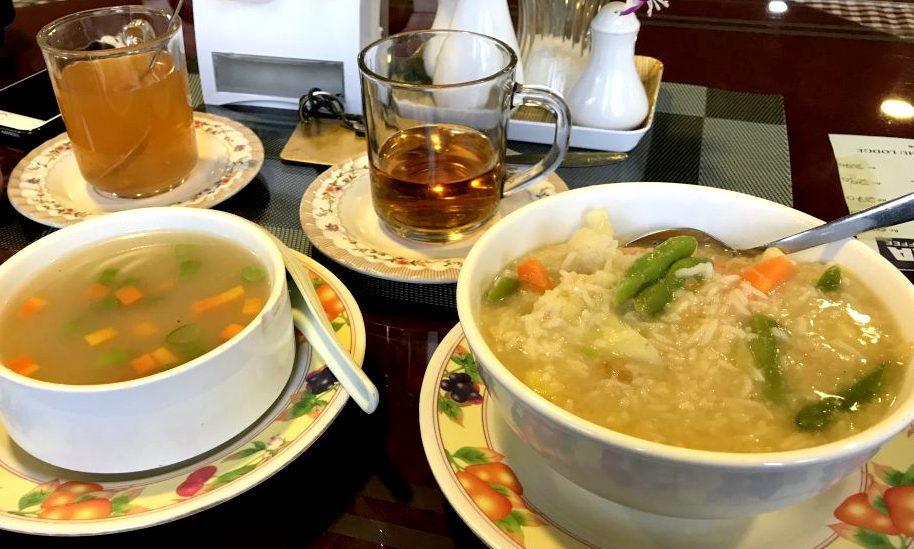 Dinner at Trekking Routes of Nepal
You can have dinner at the tea houses of the trekking routes, where you will spend a night. Generally, the dinner time will be between 7 pm to 8 pm. The main course of dinner is dal bhat tarakari in Nepal. However, if you would like to have other foods like thukpa and spaghetti, you can ask for them. Also, if you would like to have hot and cold beverages, you can easily have them.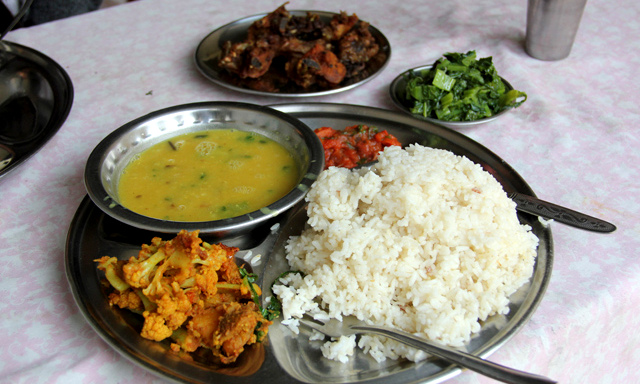 Food Habits To Follow While Trekking in Nepal
Below we have enlisted the general food habits, which are better followed while trekking in Nepal. Moreover, the given food habits are better for you for successful trekking in the Himalayan region of Nepal, including the Everest Region, Annapurna Region, Manaslu Region, Langtang Region, and Dhaulagiri Region. After reading this, we can assure you that you will be able to decide the good and bad food habits for you and not while trekking in Nepal.
Always Start Your Day With Healthy Wholesome Breakfast
Fueling yourself with a healthy breakfast is a good idea to set up for the whole day. Avoiding caffeine in the early morning would be better because caffeine leads to dehydration. Having a healthy and good breakfast helps you to walk on the trail of high-altitude areas.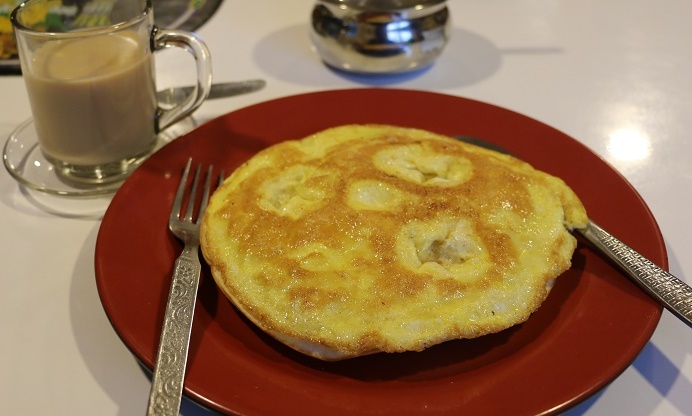 Eat Carbohydrate Containing Foods in Lunch and Dinner Time
Dining with carbohydrate-containing foods and grains gives you more stable energy during the day. Carbohydrates containing foods like rice can digest slowly but release long-lasting energy. Well, carbohydrate-containing foods and grains are available in the trekking region of Nepal. Trekkers must have a proper kind of lunch and dinner to avoid any kind of health issue during the journey.
Carry some Dry Fruits With You
Eating dry fruits such as dates, nuts, and raisins is good to boost energy during trekking.
It is hard to find dry fruits in the upper trekking region of Nepal. In this case, if you find dry fruits in a higher altitude zone, it costs more than in the lower region and city areas. So, we would like to request you to put dry fruits during the trekking packaging. You can eat them while walking or resting.
Avoid Carrying Cream Biscuits and Sugar Candies
Having creamy biscuits and sugar candies may give you a sore throat. However, you can have oaty biscuits, which provide slow energy to your body.
Keep Yourself Hydrated During Trek
Hydration on a trek is essential to prevent muscle cramps. Along with this, hydration prevents you from lowering oxygen in the high-altitude zone. For this, you should drink at least 6 liters of water each day.
Also, it is always good to hydrate early in the morning before a trek which balances your digestion and gives you the energy to hike.
In addition, be sure that you are drinking clean water. it's good to carry water bottles and water purifying tablets with you while traveling in the Himalayan regions.
Proteinous Foods Take a Longer Time To Digest
Proteinous foods such as meat take a longer time for digestion in higher altitude zones. So, try avoiding proteinous foods during trekking. However, you can eat eggs, which will preclude you from poaching muscles and help in the recovery of broken-down muscle protein.
Avoid Energy Bars and Chocolate
Chocolates and energy bars almost rely on sugar and corn syrup which gives quick energy. But later it results in a drop in the energy cycle afterward and an unhealthy peak.
Avoid Alcohol Drink
Alcohol drinks before and during the trek result in dehydration, which could cause Acute Mountain Sickness (AMS) during the Himalayan trek. Thus, it would be better to avoid drinking alcohol before and during trekking in the Himalayas to make it successful.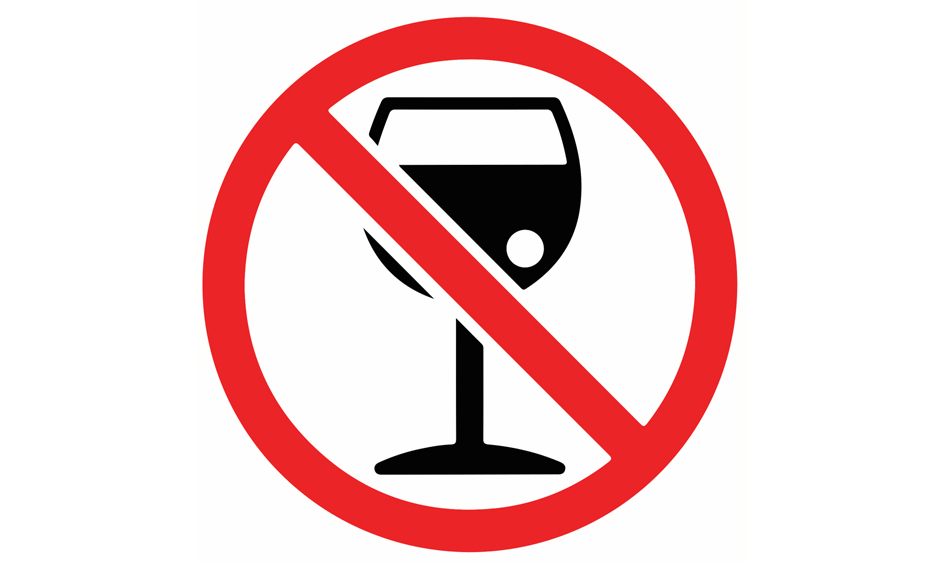 Conclusion:
If you would like to complete your trek in the Himalayas of Nepal successfully, practicing the above-listed food habits would help you. Besides this, make sure that you will stay at clean tea houses on the trek, which will serve you quality food on your trekking. Simple healthy foods and drinks during trekking are easy to available in the Himalayas, Nepal. Eating healthy foods must be a top priority for a healthy life. So, we would like to advise you to eat healthy foods on your trek to avoid illness or miserable conditions every day. Eat Healthy foods, be healthy.
If you are looking for trekking and tours in Nepal, please click here.
If you want more information please contact us.