Luxury trekking has become a buzzword among luxury seekers these days. Well, trekking is all about an adventurous trip with high physical tasks and energy that pleases you with astonishing natural and cultural highlights. Walking through a rough path with ups and downs without enjoying cozy accommodations does not sound like a luxury or deluxe trekking.
There are some popular and classical trekking packages in Nepal that can be upgraded from normal to Luxury.
Luxury Trekking Packages in Nepal
1. Luxury Everest Base Camp Trek
Luxury Everest Base Camp Trek is itself an epic and classic trip by its name. Trekking to Everest Base Camp is solely amazing and phenomenal. Trekking through Sagarmatha National Park with luxury accommodations at lodges in the Khumbu region will be more mesmerizing.
We enjoy luxury accommodations with suite rooms at Lukla, Phakding, Namche, Tengboche, and all other places.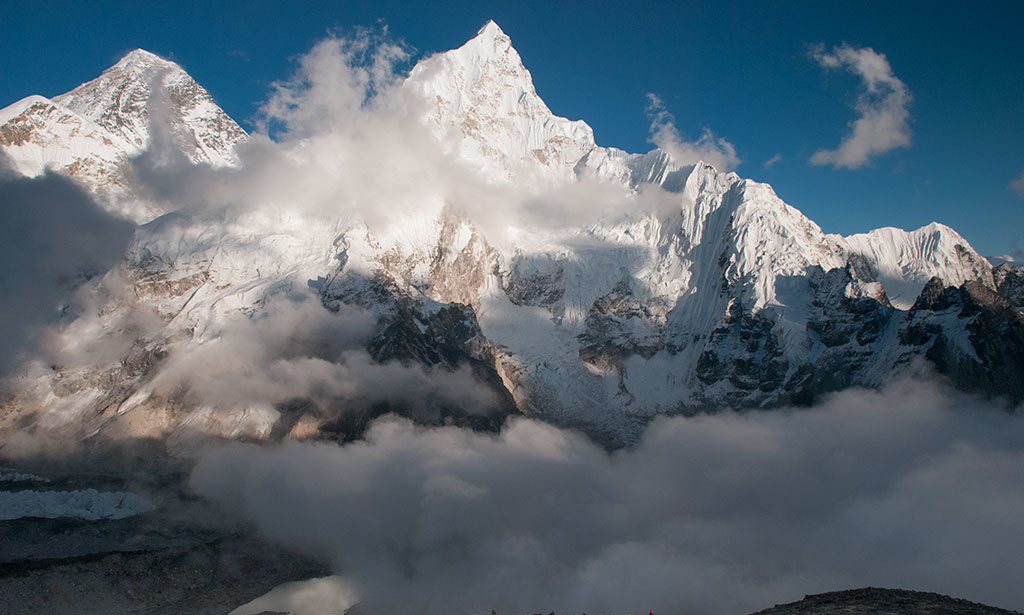 Luxury Everest Base Camp Trek offers us panoramic views of Mt. Everest, Mt. Ama Dablam, Mt. Lhotse, Mt. Makalu, Mt. Cho Oyu, Mt. Nuptse, and Lobuche peaks and so many other alluring mountain summits in the Khumbu region. Everest Base Camp Luxury Trek starts with a scenic flight from Kathmandu to Lukla. During the flight, passengers have a great chance to see the landscapes of high hills and white and smiling mountains. The Himalayan environment and Sherpa village are waiting for you to greet and for a warm welcome. There, you will meet the friendly Sherpa people, and see the Buddhist Prayer flags tied on Mani walls and Monasteries. You will pass through the World Heritage site Sagarmatha National Park where you can see the variety of flora and fauna.
Please, click here for the Luxury Everest Base Camp.
Highlights Luxury Everest Base Camp Trek
Experience the exhilaration of trekking to Everest Base Camp
Trek up to 5545m through spectacular scenery
Breathtaking views of the Everest region
Everest, Ama Dablam, Lhotse, Changtse, Nuptse, and scores of other crests as seen from a peaked stance
Trek through the heart of Sherpa country and explore their culture and way of life
Get among the hustle and bustle of market town Namche Bazaar
Guided tour of Kathmandu's World Heritage Sites ( Swyombhunath, Bouddhanath, Patan, and
Pashupatinath)
Cultural farewell dinner
Luxury Accommodation throughout the trek
2. Luxury Everest Panorama Trek
Luxury Everest Panorama Trek is a perfect short trip with a thrilling, exciting, and adventurous way to get a glimpse of the world's highest peak Mt. Everest (8848m) without trekking to Everest Base Camp. The amalgam of thrills of witnessing the top of the world with a luxury stay at local lodges and hotels will be a marvelous experience during your Luxury Everest Panorama Trek.
Luxury Everest Panoramic Trek provides the most perfect introduction to the most popular region, not only in the Everest region but also in the entire Himalayas of the Khumbu Region.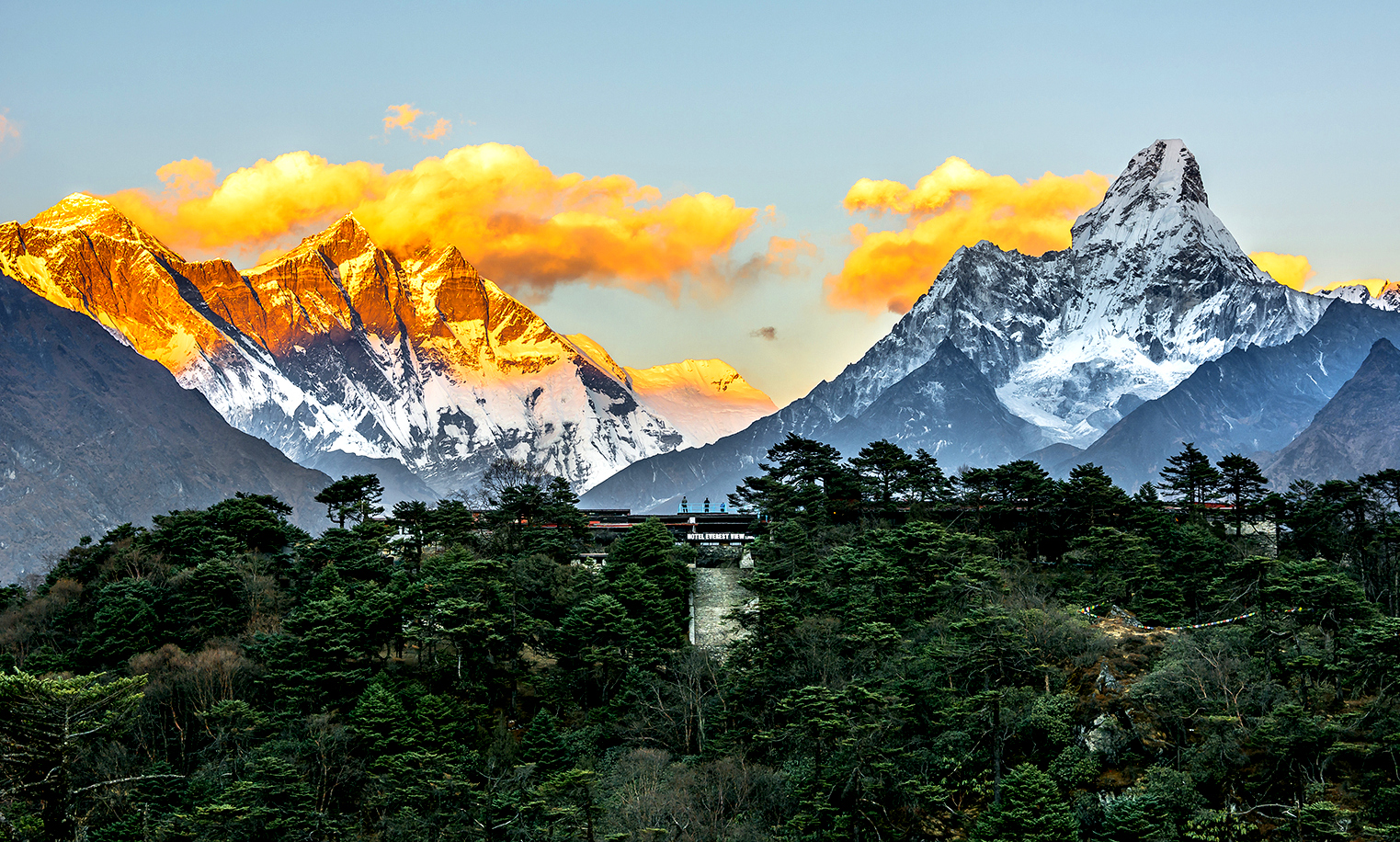 You will spend the days during this trek visiting different Sherpa Villages, Sagarmatha National Park (Everest National Park), Tengboche Monastery, and other wonders. Tengboche Monastery has a stunning scene of Mount Everest (Sagarmatha Himal) rising from behind the peak Lhotse and Nuptse.
Luxury Everest Panorama Trek starts from Kathmandu with a scenic flight to Lukla. You will continue to make the journey from Lukla to your ultimate destination with amazing views and scenery. During this journey, the best quality or luxury comfort will be maintained with Standard accommodation with electricity, comfortable and well-furnished spacious bedrooms, and western bathrooms with hot showers for 24 hours.
Highlights Luxury Everest Panorama Trek
Kathmandu Valley Sightseeing ( A visit to UNESCO World Heritage sites: Swyombhunath Stupa, Boudhanath Stupa, Kathmandu Durbar Square, and Pashupatinath Temple)
A scenic and short mountain flight to Lukla
Visit an exotic trade center and the gateway to the Everest region, Namche Bazar.
Explore Thame monastery
Interact with legendary Sherpa people and have insights into their culture
Mountain views include Mount Everest, Mt. Lhotse, Ama Dablam, Thamserku, and many others.
Dazzling sunrise view from Hotel Everest View
3. Luxury Annapurna Base Camp Trek
Luxury Annapurna Base Camp Trek is one of the best trekking packages for every trekker who wants comfort and luxury during their holiday trip to Nepal. The availability of standard local lodges and hotels has changed the normal Annapurna Base Camp Trek to Luxury Annapurna Base Camp Trek.
Walking through unspoiled trails and country settlements in the Annapurna region with luxury comforts at your stay provides you with a relaxing and refreshing experience.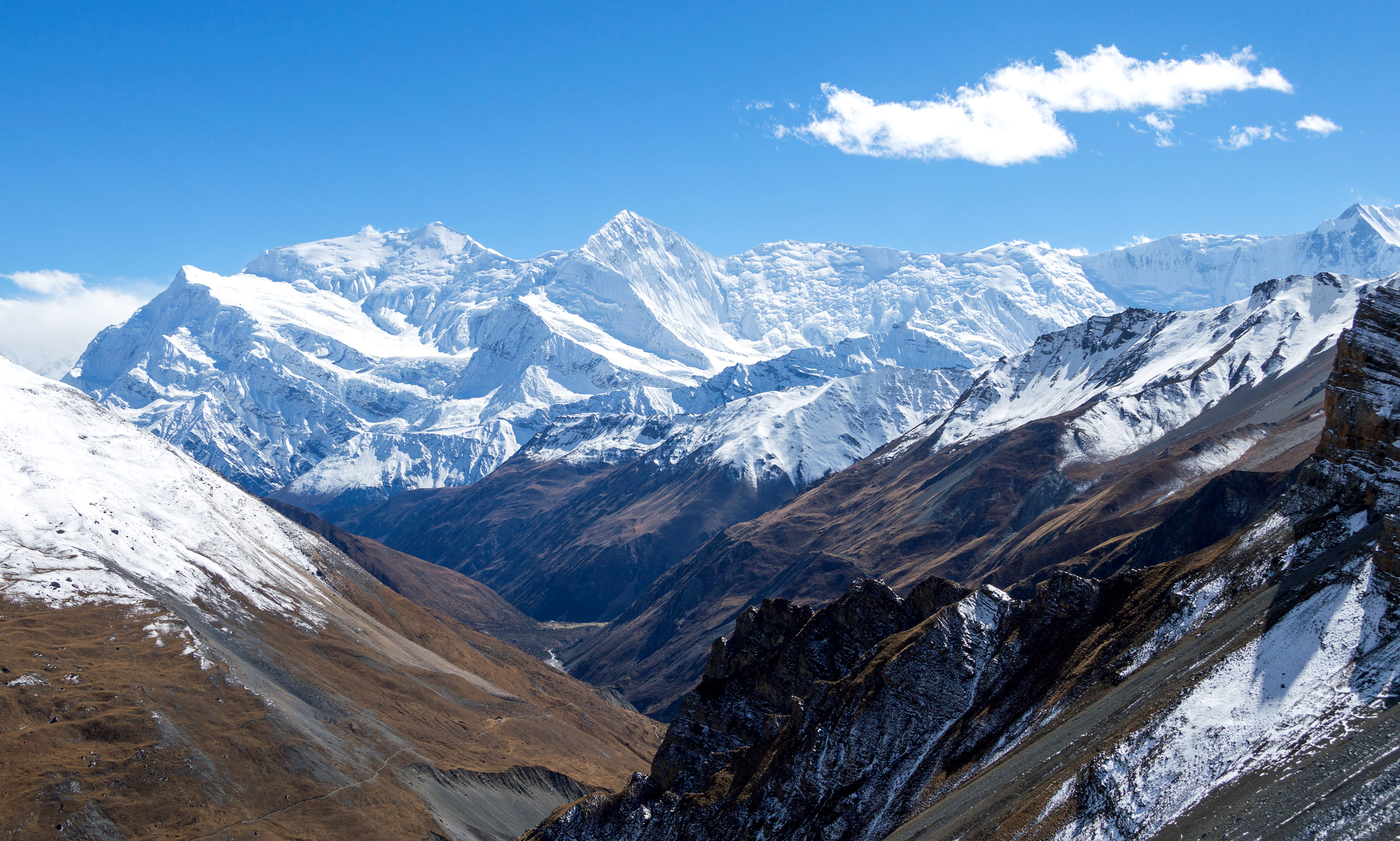 We start Luxury Annapurna Base Camp Trek by traveling to Pokhara where we spend some moments exploring the city and surrounding areas. Pokhara offers us some of the most amazing insights into the Annapurna Himalayan range, serene lakes, waterfalls, and holy caves. Next, we pass via Poonhill, Ghandruk, Tadapani, MBC, and finally ABC. During this journey, we walk through rough trails; pass several ups and downs with the company of beautiful mountains and core wilderness.
Highlights Luxury Annapurna Base Camp Trek
Rhythmic Waterfall, lush rhododendron, and picturesque traditional settlements
Ghorepani- Poonhill ( beautiful Sunrise & Mountain view)
Annapurna Base Camp with incredible mountain views
Chhumrung Village: Typical Nepali Settlements
Panoramic view of Annapurna Range
5* experience in Kathmandu and Pokhara and the best quality lodges on the trail
Sightseeing in Historical Kathmandu valley
Beautiful Ghandruk Village
4. Luxury Upper Mustang Trek
People began to understand and realize the desire of trekkers while making their holiday trip into the core Himalayas. Luxury and safety are the two basic requirements of every trip package these days wherever people travel. In order to address the new desires of modern trekkers, even restricted areas of Nepal began to offer luxury accommodations with modern lodges and hotels on the trail.
Mustang is one of the most popular destinations for not only foreigners but also domestic visitors. Before the '90s, this place was forbidden to Foreigners. But after allowing to and open for every visitor, Mustang has considerably been able to attract a large volume of tourists every year. This arid kingdom beyond the Himalayas makes the people happy with its natural environment and amazing landscapes.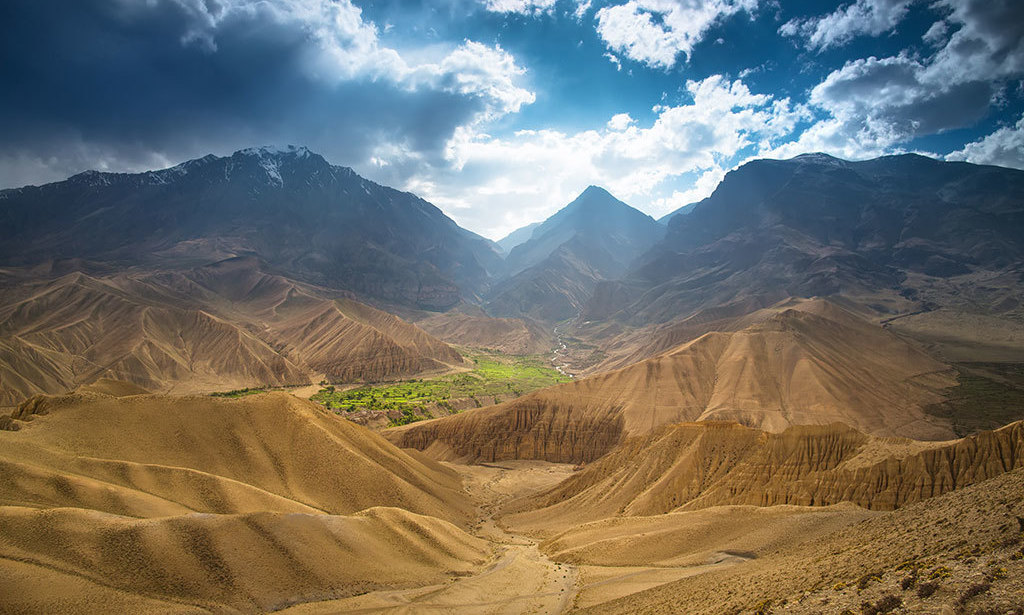 Trekking to Upper Mustang is a tough task. However, visiting Buddhist Monasteries and exploring Tibetan culture with a luxury stay at the best quality local lodges will be an absolute journey of life. This Journey also provides a great opportunity to get a glimpse of Mt. Dhaulagiri and Annapurna -I. This route will provide comfortable accommodation with traditional and local but much popular Cuisine, Thakali Khana(Cuisine).
Highlights Luxury Upper Mustang Trek
Sightseeing of Kathmandu and Pokhara city
Scenic flight to and from Jomsom
Mountain views: Annapurna-II, Dhaulagiri, Nilgiri, Tilicho and Annapurna I, Bhrikuti Peak as well as
Damodar Kunda (pond)
Exploring the Kali Gandaki River valley
Forbidden Kingdom of Mustang
The landscape of dry land in Jomsom & Muktinath temple
Picturesque views of the Himalayas
Visiting the capital of Mustang "The Lo Manthang"
Luxury Accommodations all around the trip
5. Luxury Ghorepani Poon Hill Trek
Luxury Ghorepani- Poonhill trek is one of the most rewarding short luxury trekking in Nepal. This week's luxury trek in Nepal offers the best insights into the entire Annapurna region, a trekkers' paradise protected by the Annapurna Conservation Area.
Luxury Ghorepani -Poonhill Trek gives an opportunity to walk in and through the traditional Gurung villages and community. This trek with Luxury accommodations and facilities will be astounding.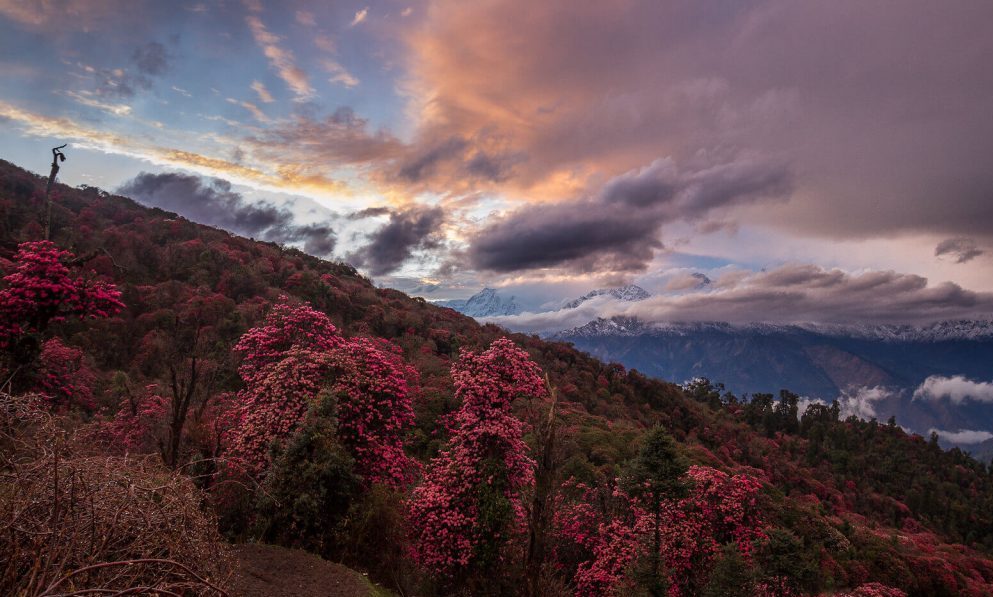 It is the best route and trail for the trek to the lower Annapurna Region in a luxurious way compared to other routes. Although this route takes trekkers to the lower region of the Annapurna Region, it provides the most stunning views of the Annapurna mountain panorama. This trip is fully loaded with relaxation and refreshments and suitable for any group of age from children aged 10 to seniors.
Please, click here Ghorepani Poon Hill Trek.
Highlights Luxury Ghorepani Poon Hill Trek
Entry-Easy level trek in the majestic Himalaya Annapurna's foothill
Share inspiring knowledge with Nepalese people.
Excellent sunrise and mountain views from Poon Hill
Walking through colorful rhododendron forests
Spectacular Annapurna Himalayan range throughout the trekking
5* Stay in Kathmandu and Pokhara and the best quality luxury accommodation on the trekking trail
Sightseeing World Heritage sites in Kathmandu and exploring Pokhara Valley
Conclusion
Luxury Trekking in Nepal has considerably popular among modern trekkers. Luxury and safety have become the two key fundamental requirements of a particular holiday trip package. Luxury Trekking in Nepal is the most phenomenal Way to explore Nepal with Comfort and safety.
In fact, Luxury trekking in Nepal lets you explore natural Nepal without compromising your comfort. You will stay in luxury lodges and hotels and experience fabulous Nepalese hospitality with great guidance for the most genuine information. Accommodation with a superior facility/service and a variety of dishes and cuisine make your trip more spectacular.
Luxury Trekking in Nepal, of course, will be your lifetime experience to explore Nepal's magnificent wildlife, nature, diverse climate and geography, diverse culture, and tradition.
During this trip, Luxury Holidays Nepal serves you the best quality service. If you are looking for other similar trips, we offer Luxury Classical Ghandruk Majgaon Trek, Luxury Dhampus Sarangkot Trek with City Tour, Luxury Everest Base Camp Trek, Luxury Ghorepani Poon Hill Trek with Jungle Safari, Nepal Luxury tour, and Trek with Helicopter Tour to Annapurna Base Camp and many more.
For more details about Luxury Services in Nepal, please click here.
If you need any further information, please contact us.