Nepal is the home of thousands of mountains, multi-culture, breathtaking natural beauty, fascinating civilization, unique tradition, geographical diversity, and rich and prideful ancient history. This specification brings thousands of tourists to Nepal every year to explore the beauty of this beautiful country.
Annapurna Circuit " Annapurna Sanctuary" trekking is simply the most majestic and inspiring trekking trail in the world. This trail is the most commercial and oldest trekking trail in Nepal, because of its amazing natural beauty, sky-dominating mountains, rich culture and practices, and spectacular scenery of Mt. Annapurna ranges. With every step on this trekking trail the scenery and terrain change. With friendly locals, mystical culture, and wide landscapes, this trekking is a lifetime experience for all travel enthusiasts around the globe. From green pasture terrain to the desert field which passes through the world's highest pass Thorong-La pass.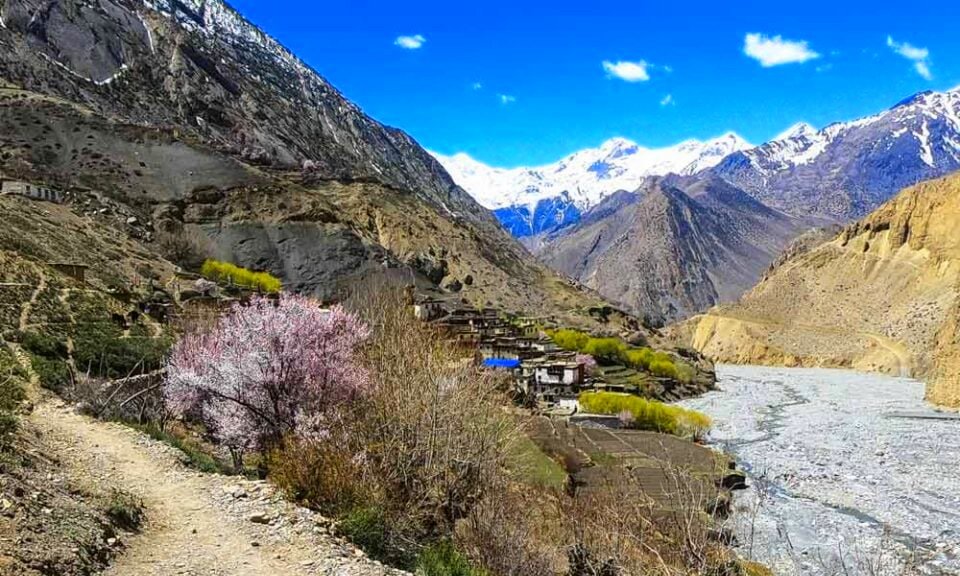 Starting with the green paddy field in Lamjung Khudi, the thick forest and trail slowly change to more dry and arctic terrain. The more you climb, the villages and communities seem influenced by Tibetian Buddhism. This is the reason why we can experience many Chorten, prayer flags, stone walls, mani walls, and ancient monasteries that resemble Tibetian Buddhism. In one sentence, this trail is a perfect adventure holiday for people who like challenges.
Annapurna Circuit treks required normally 15-21 days to complete the whole trekking. The time may vary because of the transportation facility and there are many beautiful side trekking. Annapurna Circuit also lies in the Annapurna Conservation Area which was established in 1985 and is the largest conservation area in Nepal with an area of 7629sp.km and spread in Manang, Mustang, Kaski, Myagdi, and Lamjung.
For Annapurna Base Camp Trek please, click here.
Trekking Facts
| | |
| --- | --- |
| Total Trekking days | 14 days to 21 days |
| Trekking Grade | Moderate to Strenuous |
| Food & Accommodations | Nepali local dishes and international foods/Tea houses or guest houses |
| Best Season | Spring and Autumn |
| Transportation | Flights, Tourist Bus, and Local Vehicles |
| Maximum Altitude | 5416m at Thorong-La Pass |
| Permit & Entrance | TIMS & ACAP Cards |
| Total Distance | 160km-230km (Approximately) |
Major Highlights of Annapurna Circuit Trekking
Stunning view of a series of mountain ranges from 6000m to 8000m including Annapurna I (8,091m)- 10th highest in the world, Annapurna II, III, IV, Dhaulagiri, Machhapuchhre, Manaslu, Gangapurna, Tukuche, Nilgiri, Tilicho Peak and numerous other small peaks in this region.
The highest point of this trekking trail is Thorang-La pass is the most fascinating and challenging part of this trekking.
Tilicho lake is a lake located at the highest altitude in the world. A few more days are required to go there.
The deepest gorge in the world - is Kaligandaki which lies between the Dhaulagiri & Annapurna.
The most classy and commercial trekking trail in between the two highest mountains Annapurna and Dhaulagiri.
Muktinath is the most significant temple for both Hindu and Buddhist devotees.
Trekking across the habitat of diverse flora and fauna.
The homeland of ethnic groups like Gurung, Magar, Thakali, and their culture, lifestyle, tradition, and practices.
Poonhill is a beautiful panoramic viewpoint for the Annapurna mountain range and sunrise.
Famous natural hot spring in Tatopani, a perfect place to relax your tired body after the trek.
Pokhara, the most beautiful city offers a fantastic farewell to your trekking.
Where is the Annapurna Circuit?
This is located inside the Annapurna Conservation Area with the starting point Lamjung which is 185km far from Kathmandu and it goes around five different districts for the entire trekking.
The Annapurna circuit is in the 5, 416-meter height at the Thorong La pass and descends to Muktinath and Jomsom.
Food & Accommodations
Foods and proper accommodations are vital parts of any kind of trekking. This trekking route is inhabited by the people. So, foods and accommodations are easily available almost every day as compared to other trekking trails in Nepal. Normally guesthouses and tea houses provide comfortable accommodations services and quality foods. As per your budget, you can select the fancy and normal foods and accommodations in the Annapurna Region.
During trekking, meals will be served as per the lodges and guesthouse menu. In most places, you can get almost all the varieties of local foods, and continental and international tastes. Both veg and non-veg meals are easily available around the trip. The standard package normally includes Breakfast, Lunch, and Dinner.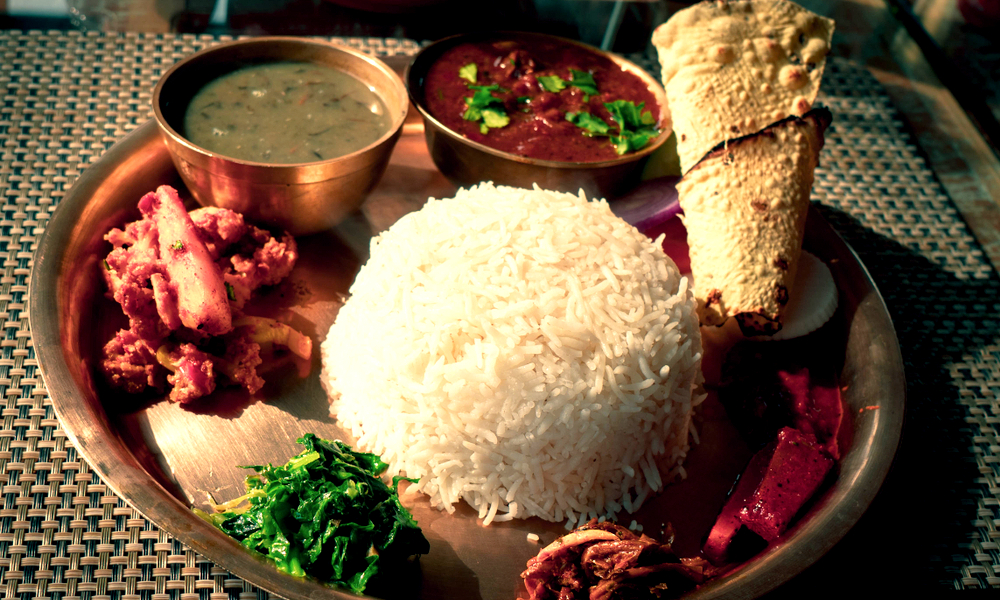 Normally breakfast includes egg items, toast items, pancakes, oats, porridge, muesli, and tea/coffee. Good breakfast fuels up your body for the whole day trek.
Lunch camps are easily available on the way and they serve noodle items, dumplings, traditional Nepal meal sets, pasta, pizza, sandwich, spaghetti, and Thukpa soup. Trekkers usually take lunch between 12 pm to 1 pm.
During dinner, there is the availability of soup items, vegetable items, salad, and hot items especially, which helps to keep your body warm and hydrated as well. Some people take a beer at lower altitudes as well.
Accommodations in the Annapurna regions are normal and there are enough lodges and guesthouses on the way. But, during the prime trekking season, if you are doing solo trekking, sometimes it might be harder to get the rooms. The rooms have limited facilities and furniture as compared to the room in the normal city area. Some lodges provide the attached bathroom but normally there will be common bathrooms during the entire trekking.
The rooms are mostly twin-sharing and cheaper (normally 3-7$) per night in a normal guesthouse and lodges. If you want to experience luxury and fancy accommodations, the options are mostly available in Ghandruk, Jomsom, and Chame. AC and heater facilities are not available, so bring your sleeping bag. Normal guest houses and lodges have large sharing dining and in the middle, there is always a typical heater to make the room warm. So, you can take dinner and chat with other trekkers as well as you can play pokers as well.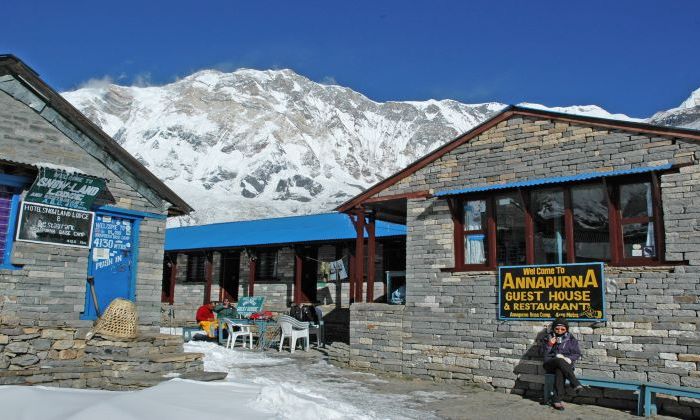 The Internet and electricity facilities are normally available almost all day. Laundry services are available. The hot shower is available in all the lodges but you need to pay extra ( 5-7$) for it. You can buy trekking gear and other normal stuff in Besisahar and Chame. Drinking water is available in all the lodges and guesthouses.
We suggest bringing some protein bars, nuts, candy, and chocolates, which provide additional energy while trekking. As the altitude gets higher, the price of the menu also gets limited and expensive.
Permit & Entrance
Government and local bodies charge some fees for the development, safety, and security of this conservation area. Since Annapurna base camp lies inside the Annapurna conservation region, both solo and group trekkers are required to collect the individual permit ACAP permit. The ACAP permit costs Rs 3,000 ( 26$) for foreigners and Rs 200/- for SAARC nationals.
There is another entry permit card, which is a TIMS card ( Trekkers Information Management System). Nepal Tourism Board and TAN office Pokhara both provide this card to the trekkers. You can collect from anywhere with a copy of your passport and two pp-size photographs. It required Rs 2,000 (20$) for the TIMS card.
Guides & Porter
Trekking in the Annapurna region is not easy at all. But with the help of experienced team members, proper food and drinks, rest and acclimatization can take you to the world's most famous trekking route. If you are booking your trip through the local travel agency, then they will arrange guides and porters for you. Guides provide you with the information on the whole trek, and safety measures, arrange your food and accommodations and make sure your permits and all the flight tickets. Porter helps you to carry your luggage normally.
Guides are normally trained and well experienced with good speaking English. You can check before you depart to trek. Normally, if you are booking a trip through the local agency, you get a chance to meet your guide in Kathmandu and he/she will start guiding you from day one.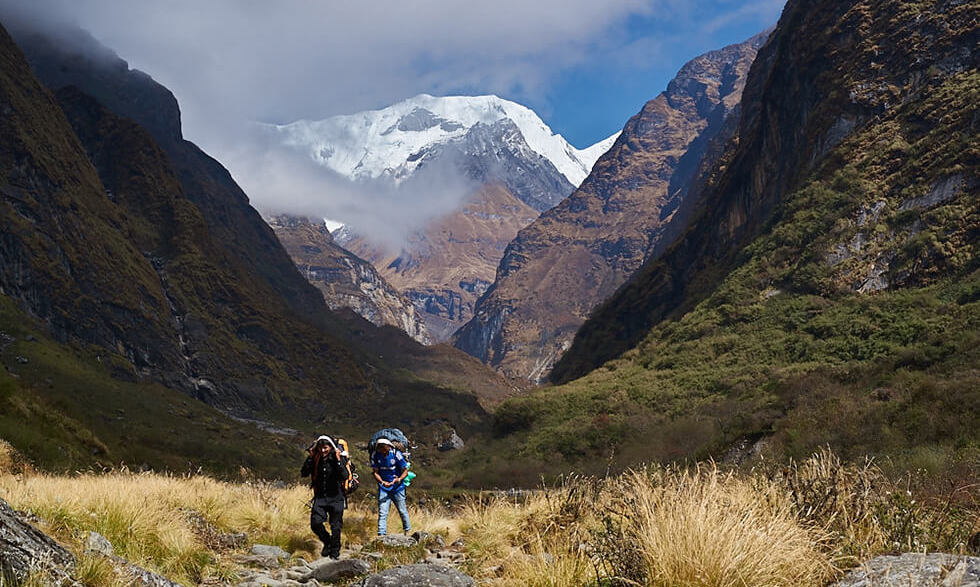 One thing you need to keep in mind is that, at the end of the trekking, the guide and porter expect good tips from you. These people are hardworking and they put all the effort to take you and your staff to your dream destinations in an extreme mountain environment.
Travel Insurence
When we are traveling in highly adventurous and risky places, we don't think much about what's wrong that might happen to us. Trekking and hiking at high altitudes in very remote mountain regions can bring real risks. So, insurance is very important on any high mountain treks and hikes. Acute Mountain Sickness (AMS) is common for everyone and especially the Annapurna Circuit still does not have the proper road transportation on the whole trail. So, any kind of serious illness and difficulty can be rescued through a helicopter.
Every insurance company doesn't provide high-altitude insurance security. So, make sure if you ate trekking in the Annapurna region then you must have insurance that covers up to 6,000m altitude, which includes Thorang-la Pass and Tilicho lake.
For more information please, click here.
Best Time to do Trek
Most of the days of the year, you can trek the Annapurna Circuit; only be careful during the monsoon season from June to August when rivers flood and landslides happen. Clear skies and the absence of bugs and dust are characteristics of autumn (Sep-Nov). Rhododendrons bloom vigorously during spring, which lasts from February to mid-April, but lower elevations can become cloudy in May. Winter trekking is also an option. Snow frequently closes the Thorong La pass, causing delays or a journey detour, but November and December are incredibly peaceful. But dress warmly because nighttime lows are below freezing and daytime highs are chilly.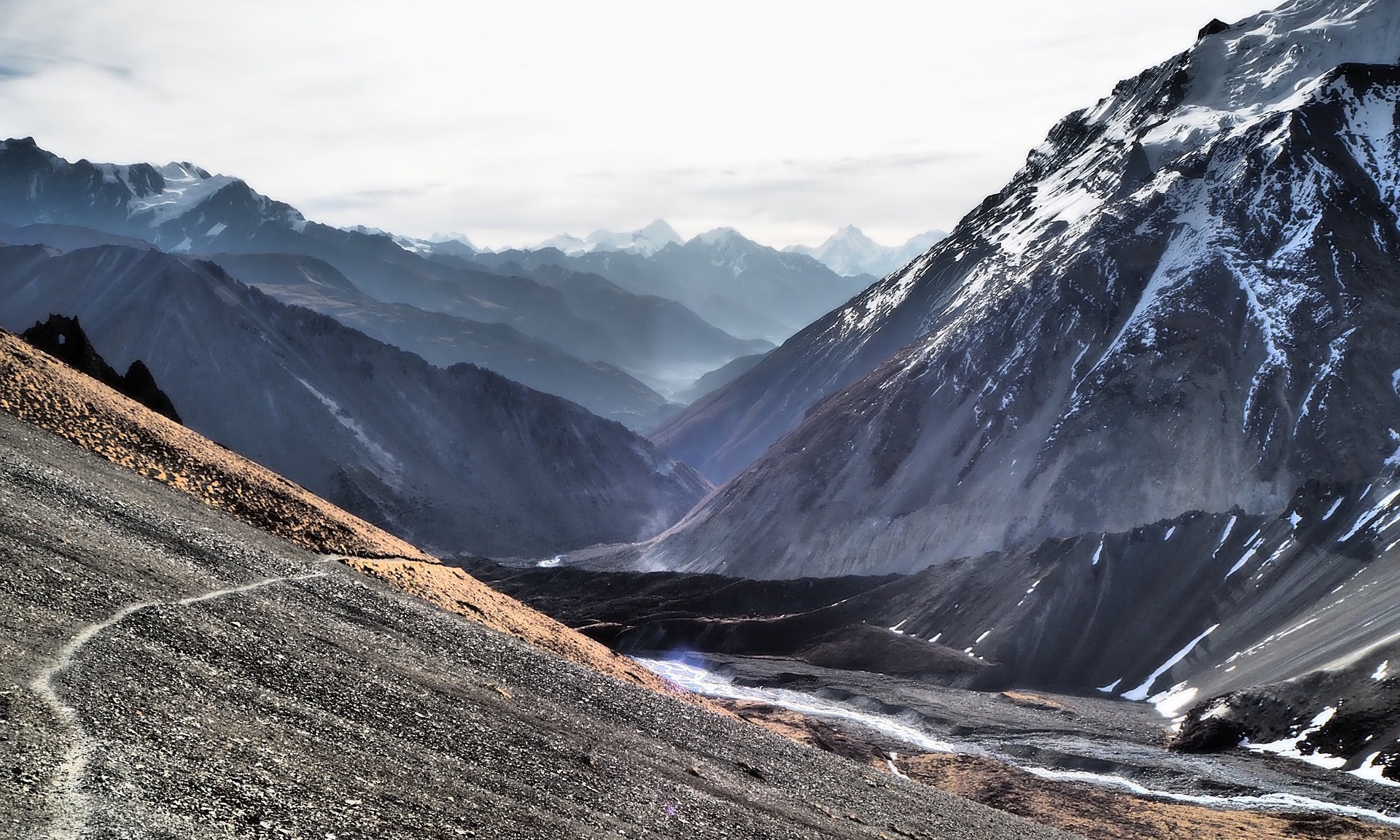 Acute Mountain Sickness & its prevention:
Acute sickness is not a regular condition if it occurs when the body is not able to adjust at a high altitude. So, sickness varies from person to person in terms of age, health, and physical fitness. As we go higher, the level of oxygen in the air becomes lower and atmospheric pressure becomes thinner. Normally, Annapurna Circuit trekking offers illness beginner and common trekkers which are also called Acute Mountain Sickness (AMS). If the symptoms of the illness are not taken care of properly, the condition can even turn dangerous.
Common symptoms of AMS
Loss of appetite
Headache
Nausea and vomiting
Tiredness and dizziness
Difficulty in sleeping
Increase heart rate and shortness of breath

Prevention
Keep your body hydrated, take more than 4L of water per day
Take plenty of rest after a daily hike
Take enough food during trekking
Wear enough and keep your body warm
Descend to a lower altitude when you feel symptoms
Ascend slowly and acclimate your body as per the requirement.
There are few medicines like Diamox that help to prevent sickness. But, remember one thing, before
taking any drugs related to AMS consult with related doctors or medical experts.
For more information please, click here.
When to trek Annapurna Circuit Trek?
Nepal has six seasons: Spring, Summer, Monsoon, Autumn, Late Autumn or pre-winter, and Winter. Among all these seasons Spring (March-May) & Autumn(Sept-Nov) are the most suitable seasons for the Annapurna Region trekking. Autumn & Spring season is the best season for the Everest Region trek because the weather conditions are much more suitable for trekking. The sky is usually clean and clear and the views of the mountains are so visible. Summer and winter are not the ideal time for trekking but at your own risk, you can travel anytime all around the year. But, there is no barrier to trekking around the year also. This trek can be done at any time of the year.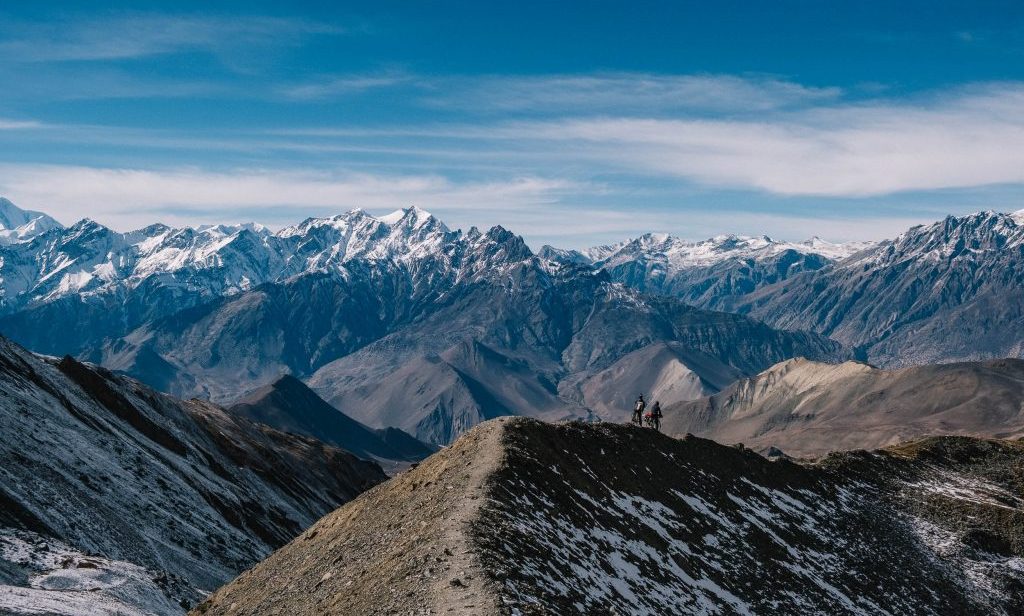 During monsoon, the trail is normally wet, muddy, slippery and a difficult pathway with the constant rainfall. The views of mountains and landscapes are less fair as compared to autumn and spring. But if you try to trek during monsoon, then it's full of glory, gloomy, mischievous sky, different shapes of clouds on big mountains, green forests, rivers, and many waterfalls on the way. This trekking could be a new and adventurous experience for the trekkers. The crowd becomes fewer and hotels and lodges are easily available as well.
Preparation before trekking
Annapurna Region trekking is not that easy for those beginners. You need some practice, some discipline, early preparation, and the best guidance to be able to take you to these amazing trekking destinations successfully. But, this doesn't mean you have to be a professional trekker. Anyone can go on this trekking but good health, physical fitness, and self-motivation are indeed required. There are a few things that you can do as naive trekkers before the commencement of the trek:
Do some short hikes and walk around 6-8hr a day both uphill and downhill.
If you don't have a habit of doing exercise, restart that habit at least a month before the trek.
Running, Summing, Cycling, and some other cardio exercises can boost your stamina. Which helps you during your trekking.
Try some Yoga steps which directly help in your respiration and drink more water and keep your body hydrated even before the trek.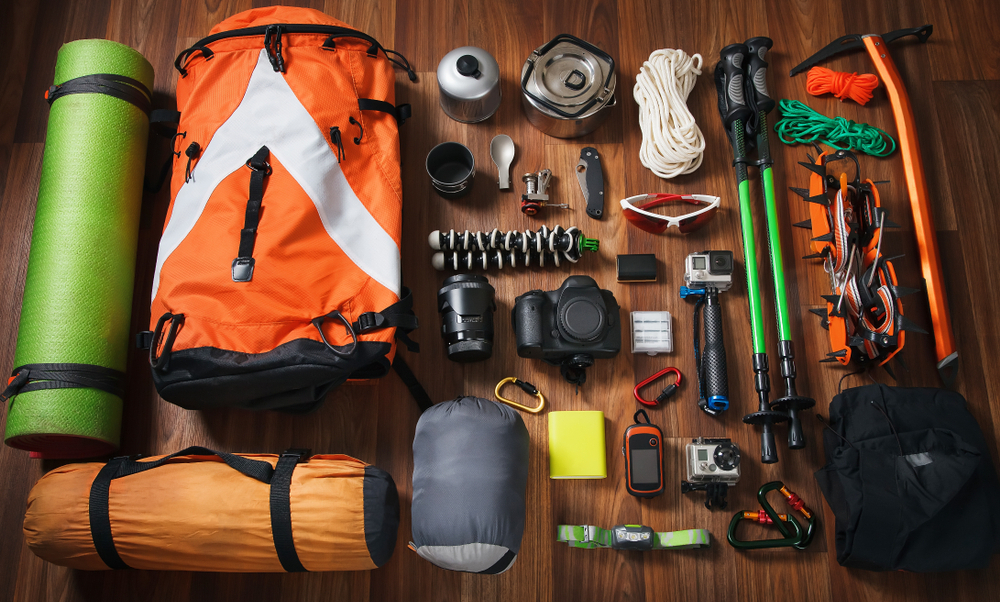 Another important and essential thing is your trekking equipment and gear. Proper equipment includes a sleeping bag, a pair of high mountain trekking boots, poles, a duffle bag, essential warm and hiking comfortable clothes, warm socks, gloves, sunglasses, sunscreen, and so on. Another major thing that we should keep in mind is, that comfortable and warm but light things are best for high mountain trekking. Make sure all the necessary papers, documents, and ideas about restricted and non-restricted things are in that zone.
How is the trekking grade?
The entire 21 days trek is diverse in itself with nearly 260km of total walking distance is not easy at all. You will start your trekking from Khudi which is 800m to maximum climb up to 5,416m Thorang-la pass.
The average hiking time is normally 5-8hrs/day and each day and daily average hiking distance is 10km along with 500m altitude gain each day. With the increase in altitude, the days and distance become shorter.
The entire trail is well maintained and easily located and navigated. Normal Annapurna Sanctuary and Whole Annapurna Circuit trek do not require any extra mountain climbing skills. The whole trekking is considered moderate to strenuous.
Transportation
Normally, Annapurna Circuit trekking starts from Besisahar which is 175km far from Kathmandu and it takes around 5-6hr vehicles. The complete trekking ends at Nayapul and the standard and short Annapurna Circuit ends at Jomsom. You can directly fly from Jomsom to Pokhara or there is an alternative to the roadway as well. It depends on the interest of tourists. Transportation is one of the most important parts of any journey or adventure anywhere around the world. There are 3 options for transportation during Annapurna Circuit Trekking and they are given below:
Flight
During this trek, you can take domestic flights to a sudden location for example Kathmandu to Pokhara and Pokhara to Kathmandu. It will take 30 to 35 min of time. Taking a flight will make your journey a little bit easier and save you lots of time as well. One of the greatest and simplest methods to experience Nepal's Himalayan regions if you're short on time is to take a mountain flight or helicopter ride.
Tourist Bus
Tourist Buses are known for being very comfortable and safe for long journey travel. Regular approved tourist buses travel back and forth from Kathmandu to Pokhara Sauraha (Chitwan National Park). Compared to most local buses, these vehicles are larger, cleaner, and more comfortable, and the drivers are typically more responsible. In addition, they are not permitted to carry more passengers than the number of seats (unlike municipal buses, which carry as many passengers as the vehicle can accommodate), which improves your comfort. Additionally, scheduled rest stops for meals are made along the trip.
Local Vehicle
There are two ways you can direct the local vehicle to leave the valley to explore different destinations. Buses can be either day buses that depart in the morning or night buses that depart in the evening. Even though night buses are typically more comfortable, the roads are still unreliable, and you'll probably sleep only sporadically. You can reserve seats on these express buses, which is convenient for planning. Nevertheless, if you have to store your possessions on the bus' roof, be sure to keep a constant eye on them. It is generally safe, however, it is best to use caution.
For Solo Travelers
Annapurna Circuit is not easy to complete. It's a long journey and we recommend hiring at least a guide and porter (if needed), which is easier, and safer, and if you are a budget traveler, you can even save some of your funds as well. But, if you like to travel alone also, just trek during the prime trekking season, so that if you need any kind of assistance, the locals, guides and trekkers always be there to help in needy situations.
Normal Itinerary
Normally our trekking journey starts from Syange, Lamjung which is 7-8hr driving from Kathmandu. After this, the landscape, terrain, people, culture, and everything look so different from Kathmandu. Prayer flags, stone walls, mani walls, monasteries, small houses, bushes, yak, cows, donkeys, and Dzho are the major attractions during hiking. Including sky-touching mountains, fancy and classy markets, and thousands of trekkers on the way make your trekking more awesome.
Complete Annapurna Circuit Itinerary
Day01: Drive from Kathmandu to Khudi (7-8hr)
Day02: Trek to Jagat (6-7hr)
Day03: Trek to Dharapani (4-5hr)
Day04: Trek to Chame (5-6hr)
Day05: Trek to Pisang (5-6hr)
Day06: Trek to Manang (6-7hr)
Day07: Acclimatization in Manag
Day08: Trek to Siri Kharka (5-6hr)
Day09: Trek to Tilicho Base Camp (5-6hr)
Day10: Trek to Tilicho lake and back to Siri Kharka (6-7hr)
Day11: Trek yo Yak Kharka (4-5hr)
Day12: Trek to Thorang Phedi (3-4hr)
Day13: Trek to Muktinath via Thorang-la Pass (8-9hr)
Day14: Trek to Marpha (6-8hr)
Day15: Trek to Kalopani (6-8hr)
Day16: Trek to Tatopani (6-7hr)
Day17: Trek to Ghorepani (7-8hr)
Day18: Trek to Tadapani and visit Poonhill before leaving for Tatopani (6-7hr)
Day19: Trek to Ghandruk (5-6hr)
Day20: Trek to Nayapul and drive to Pokhara (3-4hr) trek and 2hr drive
Day21: Drive to Kathmandu (7-8hr)
If you are looking for treks in the Annapurna region, please click here.
If you want more information please contact us.