Trekking in the Everest Region is the full package of natural beauty, sherpa culture, Tibetan Buddhism, and many more. Imagine the feeling, when you are standing in between a stunning view of sky-dominating mountains and largely covered active mountain glaciers, nothing could have been more sensational than this. The whole atmosphere treats you like everything you meet or everyone you meet on the way is welcoming you. This region is an inspiration that will fill your life with joy and happiness. Escape from the hustle and bustle of the crowded city and make your way to the tranquil mountains.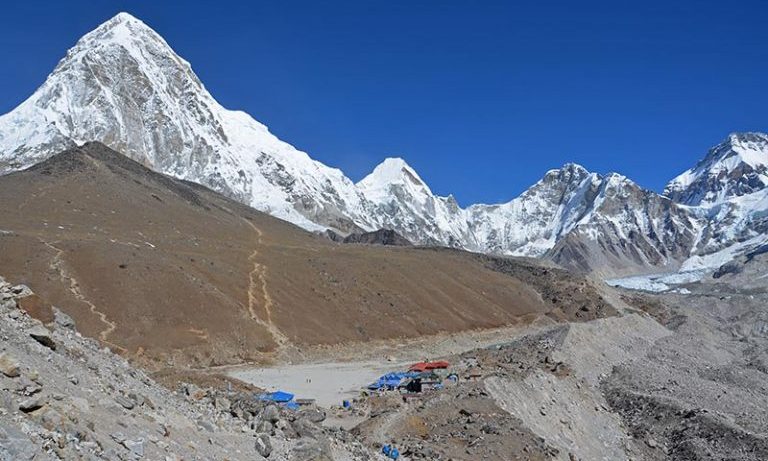 The 16 days of Everest Base Camp and Gokyo valley treks start with an adventurous flight in small aircraft to Lukla. We walk with an uphill climb along paved until we reach Phakding. Climbing steeply up along a stone paver staircase through the side of the forest, Dudhkoshi river, and luxury suspension bridge, which will take you to the most advanced tourist hub Namche. From Namche to Dole, a small and beautiful village lies in the lap of big mountains and Machhermo village before the day to reach Gokyo village. The tranquility of Gokyo and a majestic 360-degree view of mountains and the longest active mountain glacier Ngozumpa. After crossing Chola Pass, take you to the beautiful village of Lobuche and Gorakshep. The majestic view of sky-touching mountains like Everest, Lhotse, Cho-Oyu, and Makalu along the most iconic mountains in the Khumbu region Mt. Ama Dablam, and many more beautiful mountains. Another 360-degree view of panoramic mountains from the Kala Patthar summit is the most spectacular experience that you have ever perceived. A blend of spirituality in the Tengboche monastery adds to your trekking journey. The correspondence of Tibetan Buddhist culture can be seen in stone walls, mani walls, stupas, and prayer flags on the way. Sometimes we can also encounter rare wild animals which are normally found in mountain climates and environments.
Please, click here for Gokyo Lake & Gokyo Ri Trek.
Trekking Summary
Trip days: 16 days
Trekking Grade: Moderate to Arduous
Max altitude: 5,545m Kala Patthar
Best season: Feb-May/Sept-Dec
Food & Accommodation: Twin-sharing/Bed and Breakfast in a standard hotel or guesthouse (There is also the option of Luxury accommodation with BLD Plan)
Flight & Transportation: KTM-Lukla-KTM
Permit & Entrance: Rural municipality Rs2,000 & National Park Rs3000
Electricity & Internet: Available
Trip Highlights
Tenzing-Hillary Airport: most dangerous airport- the world's most extreme airport
Sagarmatha National Park: UNESCO world heritage site listed for its natural importance
Gokyo Lakes: World's highest freshwater system
Tengboche monastery: biggest monasteries in the entire Khumbu region
Kalapatthar & Gokyo Ri: 360-degree panoramic view of mountains and snow-capped hills
Hub of endangered flora & fauna
Here, we have collected some major things, which we should know before heading to the Everest region. The complete guide for the Everest Base camp and Gokyo lake treks are:
Food & Accommodation
Once you start your trekking, the availability of services of food and accommodations becomes limited as compared to the city area. Normally guesthouses and lodges provide comfortable accommodations services and quality food. As per your budget, you can select the fancy and normal foods and accommodations in the Everest region.
During trekking, meals will be served as per the lodges and guesthouse menu. In major places like Namche and Lukla, you can get almost all the varieties of local foods, and continental and international tastes. Except for a few days, you can get espresso coffee, french bakeries as well. Both veg and non-veg meals are easily available around the trip. In Buddhism, sacrificing animals is prohibited so they bring meat from nearby cities or from Kathmandu by plane.
Normally breakfast includes egg items, toast items, pancakes, oats, porridge, muesli, and tea/coffee. Good breakfast fuels up your body for the whole day trek.
Lunch camps are easily available on the way and they serve noodle items, dumplings, traditional Nepal meal sets, pasta, pizza, sandwich, spaghetti, and Thukpa soup. trekkers usually take lunch between 12 pm to 1 pm.
During dinner, there is the availability of soup items, vegetable items, salad, Sherpa stew, and hot items especially, which helps to keep your body warm and hydrated as well. Some people take a beer at lower altitudes as well.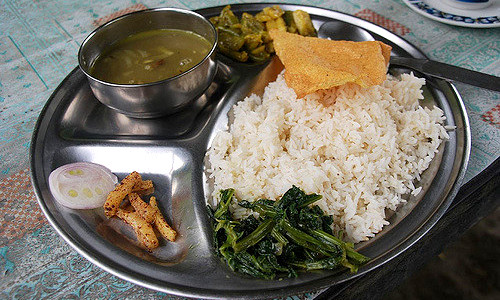 Accommodations in Everest regions are normal and there are enough lodges and guesthouses on the way. But, during the prime trekking season, if you are solo trekking, sometimes it might be harder to get the rooms because most travel agencies already booked the hotel.
The rooms are mostly twin-sharing and cheaper in cost ( normally 6-9$) per night in a normal guesthouse and lodge. If you want to experience luxury and fancy accommodations, the options are mostly available in Namche and Lukla. Normal guest houses and lodges have large sharing dining and in the middle, there is always a typical heater to make the room warm. So, you can take dinner and chat with other trekkers as well as you can play pokers as well.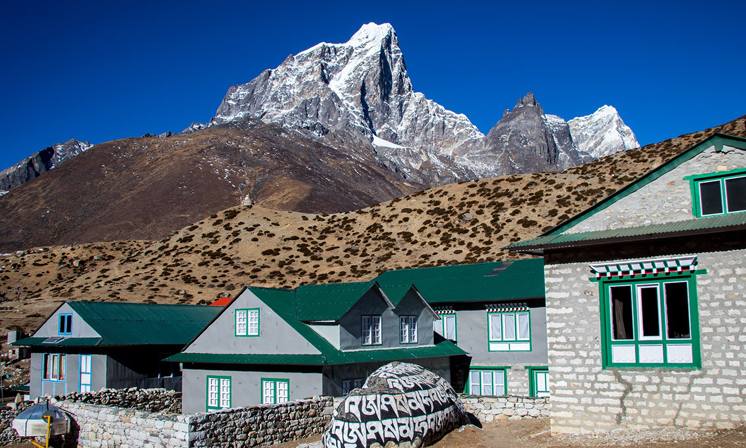 The Internet and electricity facilities are normally available almost all day. Laundry services are available in Lukla, Namche, and Phakding only. The hot shower is available in all the lodges but you need to pay extra ( 5-7$) for it. ATM service is also available in Namche. You can buy trekking gear and other normal stuff in Namche and Lukla. Drinking water is available in all the lodges and guesthouses.
As the altitude gets higher, the price of the menu also gets limited and expensive.
Flight & Transportation
The easiest way to start trekking is to fly from Kathmandu to Lukla Airport. You can directly book your flight from the airline company if you are doing a solo trip. If you come through the local travel agency, they will manage your flights. Because of the fluctuating weather, most flights are done during the morning time. Normally, airlines allow you 10ks of free baggage as well. Normally, the flight for KTM-Lukla-KTM costs around 320$-350$.
An alternative option for a flight is, you can drive 8-9hrs on the bus from Kathmandu to Jiri and additional 5-6 days will be required to reach Lukla village. Drive costs around 12$-15$.
Please, click here for Helicopter Tours in Nepal.
Permit & Entrance Fees
If you are traveling through the local travel agency, they will get all the necessary permits and access to trekking in the Everest region. But, for solo travelers, once you land in Lukla, you will find your first entrance to the Rural municipality, and secondary day you will find the Sagarmatha National Park entrance.
In the case of the permit fee, local municipalities can charge 17$ (Rs 2,000) per person, and Sagarmatha National Park charges 26$ (Rs 3,000) per person for international tourists except for SAARC countries. Before starting your entire trek, it's important to gather all the necessary permits.
Trekking Grade
The entire 14 days trek is diverse in itself with nearly 150km of total walking distance is not easy at all. You will start your trekking from Lukla at 2,840m to the maximum climb up to 5,545m Kalapatthar summit.
The average hiking time is normally 5-8hrs/day and each day and daily average hiking distance is 10km along with 500m altitude gain each day. With the increase in altitude, the days and distances become shorter.
The entire trail is well-maintained and easily located and navigated. For normal EBC and Gokyo valley treks, no need for extra climbing and mountaineering skills. The whole trekking is considered moderate to arduous.
Best Time to Trek in Everest Region
Nepal has six seasons: Spring, Summer, Monsoon, Autumn, Late Autumn or pre-winter, and Winter. Among all these seasons Spring (March-May) & Autumn(Sept-Nov) are the most suitable seasons for the Everest Region trekking. Autumn & Spring season is the best season for the Everest Region trek because the weather conditions are much more suitable for trekking. The sky is usually clean and clear and the views of the mountains are so visible. Summer and winter are not the ideal time for trekking but at your own risk, you can travel anytime all around the year.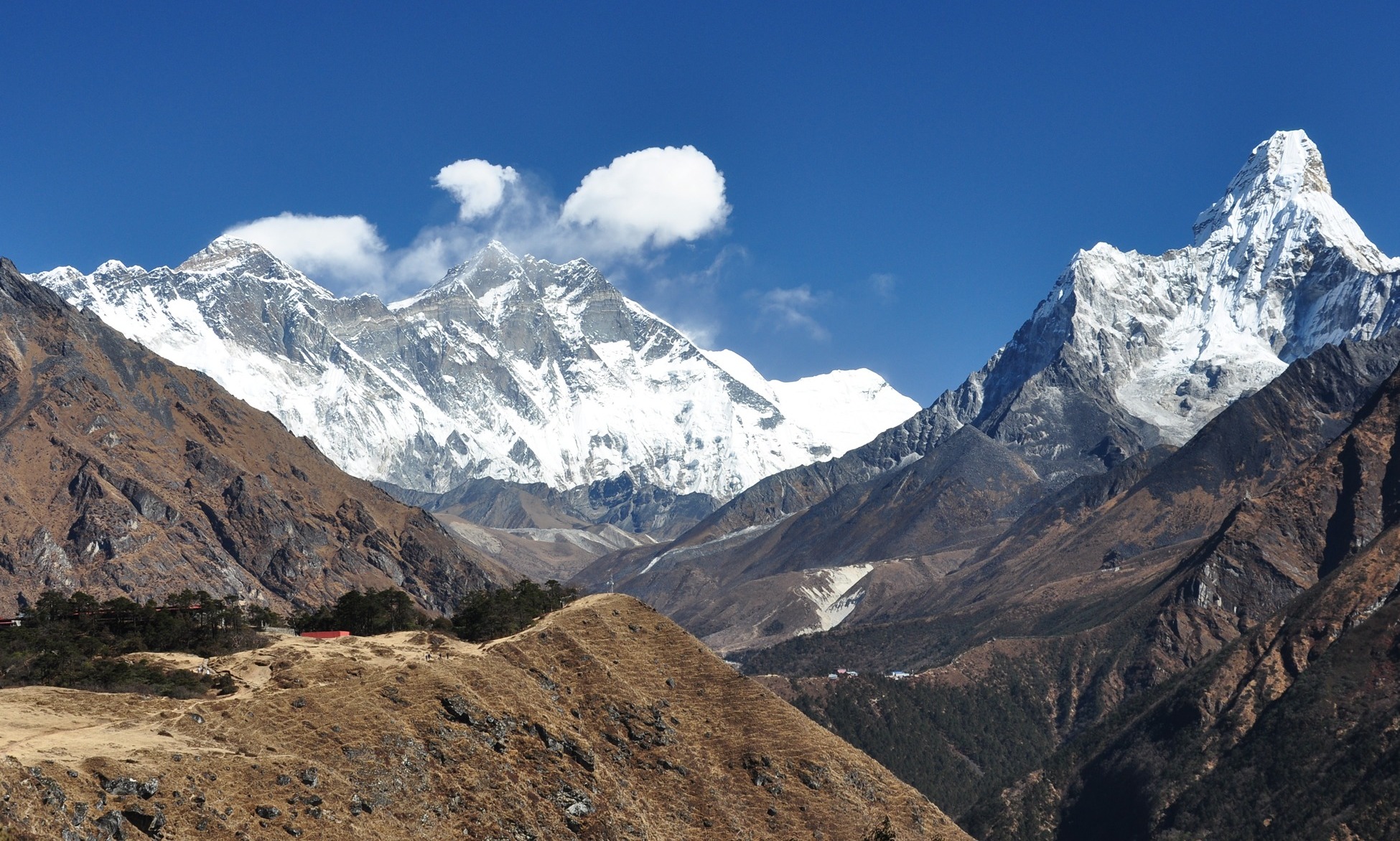 During monsoon, the trail is normally wet, muddy, slippery and a difficult pathway with the constant rainfall. The views of mountains and landscapes are less fair as compared to autumn and spring. But if you try to trek during monsoon, then it's full of glory, gloomy, mischievous sky, different shapes of clouds on big mountains, green forests, rivers, and many waterfalls on the way. This trekking could be a new and adventurous experience for the trekkers. The crowd becomes fewer and hotels and lodges are easily available as well.
Guides & Porters
Trekking in the Everest region is not easy at all. But with the help of experienced team members, proper food and drinks, rest and acclimatization can take you to the world's most famous trekking route. If you are booking your trip through the local travel agency, then they will arrange guides and porters for you. Guides provide you the information on the whole trek, and safety measures, arrange your food and accommodations and make sure your permits and all the flight tickets. Porter helps you to carry your luggage normally.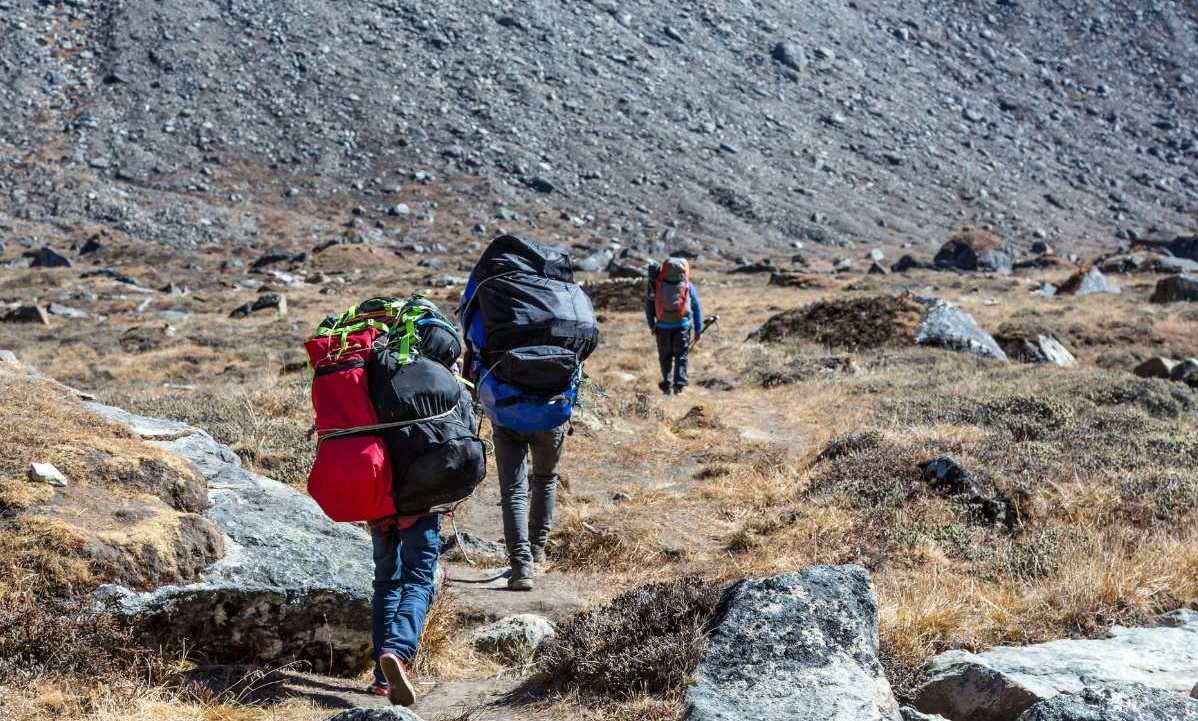 Guides are normally trained and well experienced with good speaking of English. You can check before you depart for Lukla. Normally, if you are booking a trip through the local agency, you get a chance to meet your guide in Kathmandu and he/she will start guiding you from day one.
One thing you need to keep in mind is that, at the end of the trekking, the guide and porter expect good tips from you. These people are hardworking and they put all the effort to take you and your staff to your dream destinations in an extreme mountain environment.
Travel Insurance
When we are traveling in highly adventurous and risky places, we don't think much about what's wrong that might happen to us. Trekking and hiking at high altitudes in very remote mountain regions can definitely bring real risks. So, insurance is very important on any high mountain treks and hikes. Acute Mountain Sickness (AMS) is common for everyone and especially the Everest region is still not in touch with road transportation. So, any kind of serious illness and difficulty can be rescued through a helicopter.
Every insurance company doesn't provide high-altitude insurance security. So, make sure if you ate trekking in the Everest region then you must have insurance that covers up to 6,000m altitude, which includes Base Camp, Kalapatthar, Gokyo Ri, and so on.
Altitude sickness & measures:
Acute sickness is not a regular condition if it occurs when the body is not able to adjust to high altitudes. So, sickness varies from person to person in terms of age, health, and physical fitness. Normally, Everest region trekking offers an illness most of the common trekkers which is also called Acute Mountain Sickness (AMS). If the symptoms of the illness are not taken care of properly, the condition can even turn dangerous.
Common symptoms of AMS:
Loss of appetite
Headache
Nausea and vomiting
Tiredness and dizziness
Difficulty in sleeping
Increase heart rate and shortness of breath
Prevention:
Keep your body hydrated, and take more than 4L of water per day
Take plenty of rest after a daily hike
Take enough food during trekking
Wear enough and keep your body warm
Descend to a lower altitude when you feel symptoms
Ascend slowly and acclimate your body as per the requirement.
There are few medicines like Diamox that help to prevent sickness. But, remember one thing, before taking any drugs related to AMS consult with related doctors or medical experts.
Pre-trek preparation
Everest Region trekking is not that easy for those beginners. You need some practice, some discipline, early preparation, and the best guidance to be able to take you to these amazing trekking destinations successfully. But, this doesn't mean you have to be a professional trekker. Anyone can go on this trekking but good health, physical fitness, and self-motivation are indeed required. There are a few things that you can do as naive trekkers before the commencement of the trek:
Do some short hikes and walk around 6-8hr a day both uphill and downhill.
If you don't have a habit of doing exercise, restart that habit at least a month before the trek.
Running, Summing, Cycling, and some other cardio exercises can boost your stamina. Which helps you during your trekking.
Try some Yoga steps which directly help in your respiration and drink more water and keep your body hydrated even before the trek.
Another important and essential thing is your trekking equipment and gear. Basically, proper equipment includes a sleeping bag, a pair of high mountain trekking boots, poles, a duffle bag, essential warm and hiking comfortable clothes, warm socks, gloves, sunglasses, sunscreen, and so on. Another major thing that we should keep in mind is, that comfortable and warm but light things are best for high mountain trekking. Make sure all the necessary papers, documents, and ideas about restricted and non-restricted things are in that zone.
Normal Itinerary
Normally our trekking journey starts with a flight to Lukla from Kathmandu which takes around 35min. After this short dramatic and thrilling flight to one of the most dangerous airports in the world, we will start our hike from day one. After this, the landscape, terrain, people, culture, and everything look so different from Kathmandu. Prayer flags, stone walls, mani walls, monasteries, small houses, bushes, yak, cows, donkeys, and Dzho are the major attractions during hiking. Including sky-touching mountains, fancy and classy markets, and thousands of trekkers on the way make your trekking more awesome.
Here is the general itinerary for the Everest Base Camp and Gokyo valley trek:
Kathmandu to Lukla 35min flight - Phakding 3hr hike.
Phakding to Namche 6hr hike
Acclimatization in Namche and exploring Everest View Point
Namche to Dole - 6hr hike
Dole to Machhermo - 4hr hike
Machhermo to Gokyo - 4hr hike
Gokyo to Gokyo Ri and back to Thangna - 7hr hike
Thangna to Dzongla via Chola Pass - 8hr hike
Dzongla to Gorak Shep - 7hr hike
Gorak Shep to Everest Base Camp and back to Gorakshep - 6hr hike
Gorak Shep to Kalapatthar and hike to Pheriche - 7hr hike
Pheriche to Namche - 7hr hike
Namche to Lukla - 7hr hike
Lukla to Kathmandu - 35min flight
We expect that you like this complete guide to Everest Base camp and the Gokyo valley trek. The most famous trekking trail in the world is always ready to welcome you. We are looking forward to hearing your queries and welcoming you to this beautiful country of the Himalayas.
If you are looking for trekking in the Everest region, please click here.
If you want more information, please contact us.