[TOC]

Helicopter tours are one of the most fascinating ways of exploring the land of the Himalayas. Helicopter tours are undoubtedly the safest medium of transportation in terms of Nepal, the geographical terrain of Nepal with more than 65% of the area covered by Hills and Mountains makes Helicopter tours popular among all national and international tourists. Helicopters have been used for different occasions from touring to rescue operations. It's one of the most time-efficient means of travel and to experience everything in the shortest period of time acquires probably more than a week of travel. Time-efficient, collective experiences and breathing-taking views from the sky are some of the highlights of the Helicopter Tour in Nepal.

Helicopter tours have been operating in different nooks and corners of the country and are in high demand by incoming tourists from all around the world. Numerous tourists prefer to experience the beauty of the lusty land of the Himalayas alongside their culture and tradition without having to put in much sweat. Luxury Holiday Nepal has been operating helicopter tours in different parts of the country like Everest, Annapurna, Upper Mustang, Langtang, Gosaikunda, Kathmandu, Rara, Manaslu, Upper Dolpo, and many more. These are some of the popular Helicopter tour destinations in Nepal, Luxury Holidays Nepal operates private and charter flights to the nook and corner of the country and can be used at any time of the year for any kind of purpose.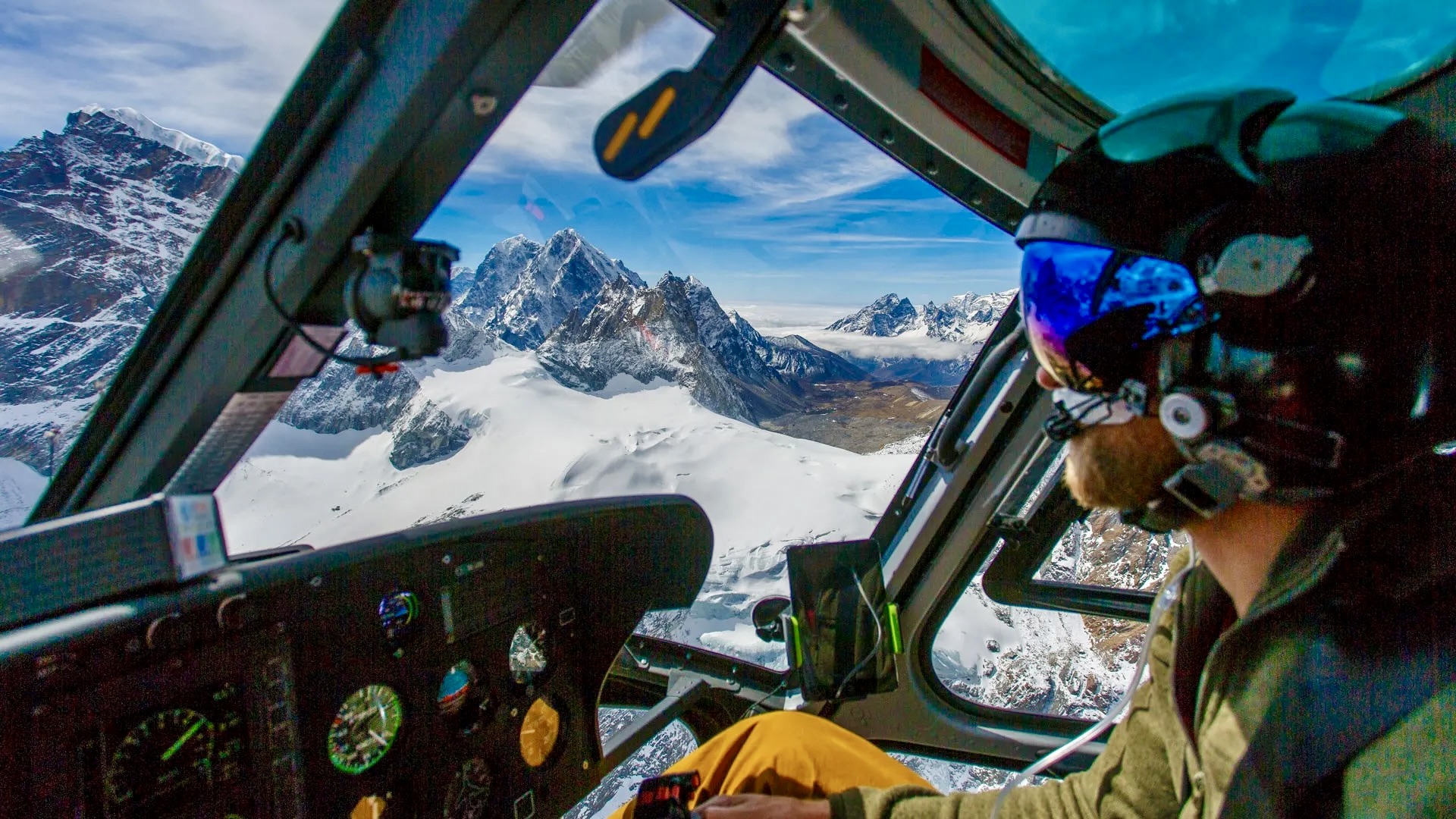 The joy and luxury of riding a helicopter toward any destination are some of the best feelings in the world. Helicopter tours are the safest as professional pilots are only allowed to ride Helicopters in technically challenging landscapes of Nepal as Hills and Mountains are one of the hardest geographical terrains to fly out of Helicopters. If you are someone wanting to experience the beauty of the Gigantic Himalayas, Glaciers, Icefalls, Rivers, Hills and Landscapes, waterfalls, and ethnic village settlements with unique cultures but cannot find out enough time due to various circumstances such as physical and mental stress of time constraints then Helicopter tours are the prominent way of travel for you.
There are hundreds of destinations flown over by the means of Helicopter, based on comfort, safety, and popularity here are some of the popular packages for Helicopter Tour in Nepal:
Top 10 Helicopter Tours in Nepal
1. Everest Base Camp Helicopter Tour
Home to the world's highest peak in the world, Mt. Everest standing at a staggering elevation of 8848.86 m is the most popular Helicopter tour in Nepal. Tourists from all around the world are visiting to fulfill their biggest endeavor of experiencing the aura of Mt. Everest. The flight towards the Everest Base Camp is for 4 hours with the best panoramic views of the Himalayas of the Greater Himalayan range from the capital of Nepal, Kathmandu. You'll be getting an adequate amount of time on the base of Everest which stands at an astounding elevation of 5,364m/17,594ft.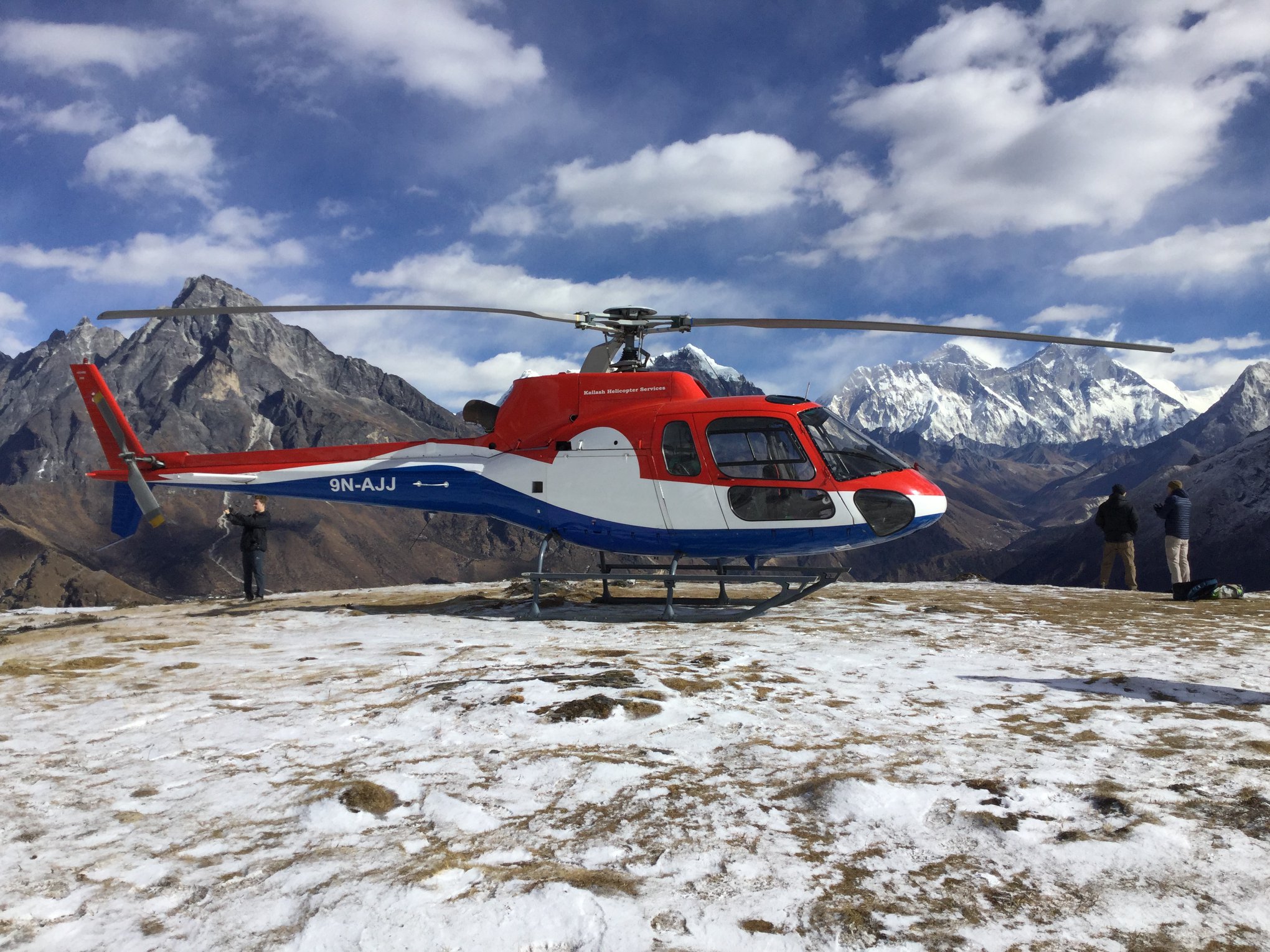 One of the luxury packages that Luxury Holiday Nepal provides is a Luxury Champagne breakfast in the world's highest elevated hotel namely Everest View Hotel alongside a helicopter tour to Everest Base Camp.
2. Everest Base Camp Flyover Tour With Stopover At Kala Patthar
The most prominent place in the Everest region to observe the panoramic beauty of Everest is Kalapatthar. It's the closest possible place to Everest where you can observe the true aura of the gigantic Everest. Kalapathar stands at an astounding elevation of 5, 644m higher than Everest base camp with more adequate views of other eight-thousanders sitting alongside the tallest peak in the world. Everest Stopover at Kalapatthar Helicopter Tour is one of the ideal choices for people who need more of an ideal opportunity for those who don't want the long and troublesome journey. This is a little glimpse of heaven bundle, who will investigate and experience the elite view with a tasty breakfast in the lap of the shocking Himalayas.
3. Annapurna Base Camp Helicopter Tour
Mt. Annapurna, the tenth highest peak in the world is the most noteworthy top on the planet standing at a staggering height of 8,091m Annapurna is viewed as one of the world's most troublesome mountains for the expedition. Indeed, even ABC Trek, and Annapurna Trekking. also Annapurna Circuit Trek are regularly perceived as hard and testing as it remains at the height of 4130m.ABC helicopter tours include brimming with radiant and enchanted perspectives on all-encompassing mountains.
In spite of the fact that journeying is a valid method for moving toward the headquarters, many individuals have picked the elective courses due to different reasons, oneself failure to trip or family reasons, or deficiency of time. Mt. Annapurna. Annapurna Helicopter Tour permits you to see the Annapurna Massif and Dhaulagiri Massif from a bird's eye perspective.
For more information about Annapurna Helicopter Tour, please click here.
4. Upper Mustang Helicopter Tour
The Forbidden Kingdom of Nepal is the land behind the Himalayas, a designated spot of Nepal late, the Mustang has become well known among both homegrown and global sightseers on account of its novel desert valleys and great scenes. Upper Mustang is the mysterious realm behind a lower belt of the Mustang. It is more separated than the lower belt itself and has an enormous history behind it. Upper Mustang is additionally famous among scientists and researchers because of its extraordinary properties found around the valley. Heli Tour in Upper Mustang is a huge experience of culture, religion, and history in a brief timeframe. It is ideal to find the unseen piece of the country to have a pleasurable and acceptable experience.
5. Langtang Helicopter Tour
Langtang is the deserted and untainted region of the Himalayan Region, arranged at the focal piece of the Himalayan reach. Langtang valley is the most flavourful objective to investigate the Himalayas. You can encounter a 360-degree perspective of the mountains. Langtang Lirung, Langtang II, Kibgyu Ri, Mt Gangchempo, Loenpo Gang, Purbi Chyachu .Langtang valley helicopter visit begins from the global air terminal of Nepal and closes in it. The complete trip in and back span would be 2 hours. During your excursion, you will encounter a bold trip towards the valley in the middle of massive slopes, following the way of snake-like waterways.
For more information about Langtang Helicopter Tour, please click here
6. Kathmandu Valley Helicopter Tour
Kathmandu, the capital of the Federal Democratic Country of Nepal lies at an elevation of 1400m. Kathmandu is broadly well known for its wealth in its History, Culture, and Religion which is the reason UNESCO has recorded 7 objections of Kathmandu valley in its rundown. The feature of the Kathmandu valley would be its antiquated design regardless of modernization occurring at a quick speed. The Helicopter tour of Kathmandu is such an amazing experience witnessing the total combination of modern and ancient architecture.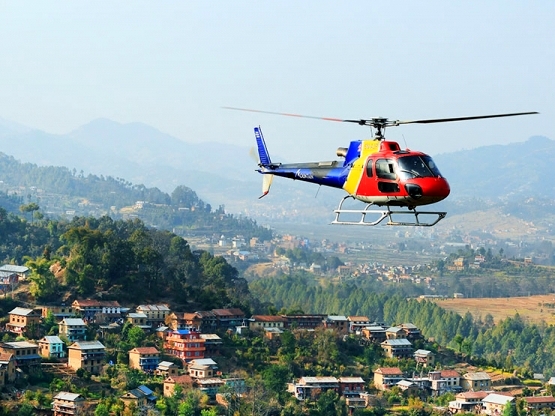 Kathmandu is a normally honored valley encircled by slopes and scenes making it an amazing design of the land, upon clear climate Himalayan Ranges.. can be plainly seen.
7. Gosaikunda Helicopter Tour
Gosaikunda is one of the most well-known and best destinations for Helicopter Tours in Nepal. This sacred land is visited by many travelers as well as pioneers consistently. Gosaikunda isn't just well known as the Holy spot yet it is additionally an eminent vacation location in Nepal where numerous sightseers go each year to partake in a piece of Heaven existing on Earth. The magnificence of the Gosaikunda Lake and other related lakes hypnotizes any individual who approaches there. The oligotrophic lakes mirror the snow-covered mountains, and for the most part, the treeless slopes blow your mind. The flight starts from Kathmandu implies you have incredibly elevated perspectives on the whole of Kathmandu valley and the encompassing green slopes. We land close to the Gosai Kunda or the Gosai Pond and begin to investigate the lovely Gosaikunda region and visit a few nearby lakes as well.
For more information about Gosaikunda Helicopter Tour, please click here.
8. Mardi Himal Helicopter Tour
Mardi Base Camp has been quite a popular destination among domestic and international tourists due to its moderate level of difficulty on the trek, providing outstanding views of Machhapuchhre, Annapurna, and its subsidiaries and Gangapurna. Although quite a new helicopter flight destination it is the most prominent flight you can expect to ride on due to its unique diversities, flora, and fauna.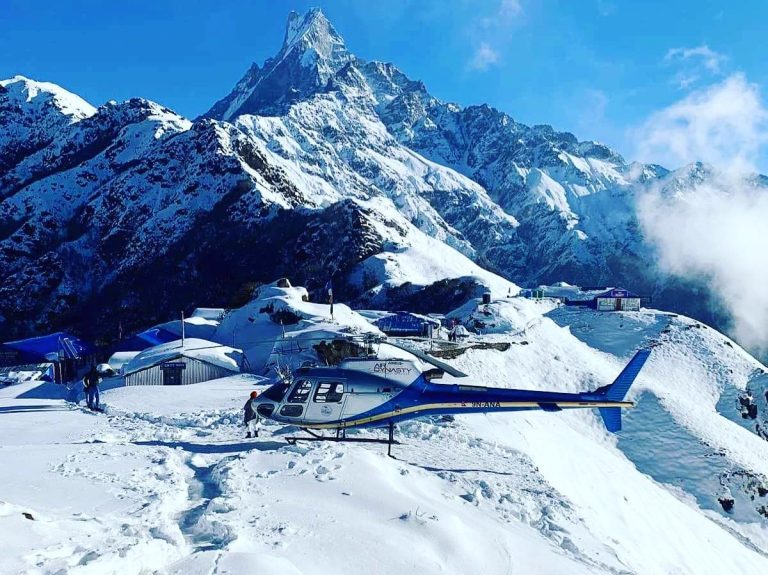 The journey towards Mardi Himal is full of surprises, it passes through dense forests, fewer villages and more wilderness, fewer villages yet amazing settlements, and rivers flowing between the alleys of huge landscapes, the most colorful national flower Rhododendron is covered all over the dense forest during autumn and spring season. Moreover, you will experience a unique journey to the promising Mardi Himal Base Camp.
For more information about Mardi Himal Helicopter Tour, please click here.
9. Gokyo Lake and Gokyo Ri
Gokyo lake, a reasonable water oligotrophic lake that stands ideal at an elevation of 4700m lies under the Sagarmatha National Park and is one of the intriguing lakes to notice. Because of its freshwater properties, it is peaceful and quiet at all times of the year. The lake will provide you with a feeling of progress in yourself subsequent to seeing the tranquillity of the mountain. Gokyo Helicopter Tour has a few breathtaking perspectives of Shishapangma 8012m, Gaurishankar 7134m, Cho Oyu 8201m, Makalu 8463m, and many more.
For more information about Gokyo and Everest Helicopter Tour please click here.
10. Shey Phokusundo/ Upper Dolpo Helicopter Tour
Shey Phoksundo Heli Tour which is likewise realized as Dolpo Heli Tour is an extraordinary method for investigating Dolpo's enchanted and magical land. Moreover, this visit likewise gives an all-encompassing perspective on the snowcapped Mountain and shifts sorts of scenes. Additionally, this is one of the wonderful Helicopter visits to the remote far western areas of Nepal. It incorporates the snow-capped mountains as well as the excellent Shey Phoksundo Lake with particular Tibetan culture and individuals. Shey Phoksundo Lake is an elevated turquoise water lake. It's situated at Shey Phoksundo Park which at an elevation of 3,600m. Shey Phokusindo Helicopter is one of the excellent minutes that you will get as you can see the stunning mountain range with green slopes and woods.
If you are looking for the best helicopter tour in Nepal, please click here.
See Everest by Plane: 1 hour Flight: Book now
See Everest by Helicopter with Landing: 4-Hour flight (Starting at USD 899 per person): Book Now
Luxury Holidays Nepal has been operating helicopter tours in different parts of the country, if you want to know more about helicopter tours in Nepal please Contact Us.
| | | | | |
| --- | --- | --- | --- | --- |
| Name of Helicopter Tour | Duration | Persons | Route | Price |
| EBC | 1-4 hrs. | 1-3 pax | Ktm-Lukla-EBC-Lukla-Ktm | Starting at $3330 |
| EBC with Champagne breakfast | 1-4 hrs. | 1-3 pax | Ktm-Lukla-EBC-HEV-Lukla-Ktm | Starting at $4000 |
| EBC with Kalapatthar | 1-4 hrs. | 1-3 pax | Ktm-Lukla-Kalapatthar-Lukla-Ktm | $4000 |
| ABC | 1-4 hrs. | 1-5 pax | Ktm-ABC-Ktm | $3800 |
| Upper Mustang | 1-4 hrs. | 1-3 pax | Ktm-Pokhara-Upper Mustang- Pokhara-Ktm | $4000 |
| Langtang | 1-3 hrs | 1-5 pax | Ktm-Langtang-Ktm | $1700 |
| Kathmandu Valley | 1 hrs. | 1-5 pax | Ktm valley | $1000 |
| Gosaikunda | 1-3 hrs | 1-5 pax | Ktm-Gosaikunda-Ktm | $2250 |
| Mardi Himal | 1 hrs | 1-5 pax | Pokhara-Mardi-Pokhara | $1000 |
| Gokyo Lake and Gokyo Ri | 4-5 hrs | 1-5 pax | Ktm-Lukla-Gokyo-Lukla-Ktm | $5000 |
| Shey Phoksundo | 4-5 hrs | 1-4 pax | Ktm-Shey Phoksundo-Ktm | $2500 |