[TOC]

Nepal is a wonderland for exploring the untamed variations of flora and fauna, experiencing the spectacular vistas of enormous mountains, exploring many civilizations, studying various climates, and discovering the diversity of plants. Nepal's extreme altitude range, from 59 meters to 8848.86 meters above sea level, offers a variety of climates, topographies, and ecosystems. Nepal's various geographic variations provide a wide range of natural beauty. Nepal is a paradise of natural beauty, with the eighth-highest mountain in the world above 8000 meters, as well as other smaller peaks, freshwater rivers, lakes, streams, glaciers, glacier lakes, valleys, and protected regions. Nepal is a country where a variety of ethnic groups coexist peacefully. The most alluring features of Nepal's visit have been its numerous expertly constructed stupas, monasteries, palaces, gompas, and temples.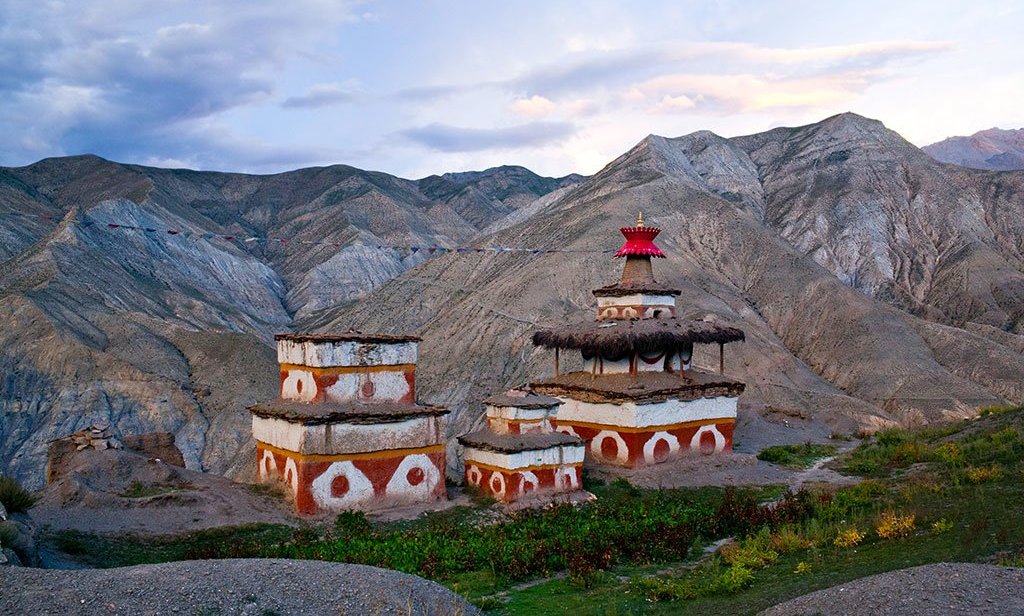 Spring is one of the major trekking seasons in Nepal which falls in March and lasts until May. It is the second busiest time of the year to trek in Nepal after the autumn season, normally in the Everest Region and Annapurna Region. Spring seasons are also called the seasons of flowers, where you can explore the varieties of blooming flowers based on altitudes and climates. The Spring season in Nepal is the peak time for touring, trekking, and mountaineering. During this season trekking is possible in all top trekking destinations in the nation. Trekking on the foothills of the snowy mountains during spring weather is simply the best because of the trail filled with blooming Rhododendrons, trees, and other beautiful flowers, the warmer and clear weather days, stunning views of mountain vistas and Himalayan Panoramas, and Low risk of any disasters and unfortunate incidents.
Thousands of tourists visit Nepal each spring to enjoy the ultimate thrill of exploration and wandering amid the country's beautiful natural and cultural surroundings. Some of the most well-known trekking routes in Nepal during springtime are Everest trekking, Manaslu trekking, Annapurna trekking, Kanchenjunga trekking, Langtang trekking, Gosaikunda trekking, Khaptad trekking, and Dolpo trekking.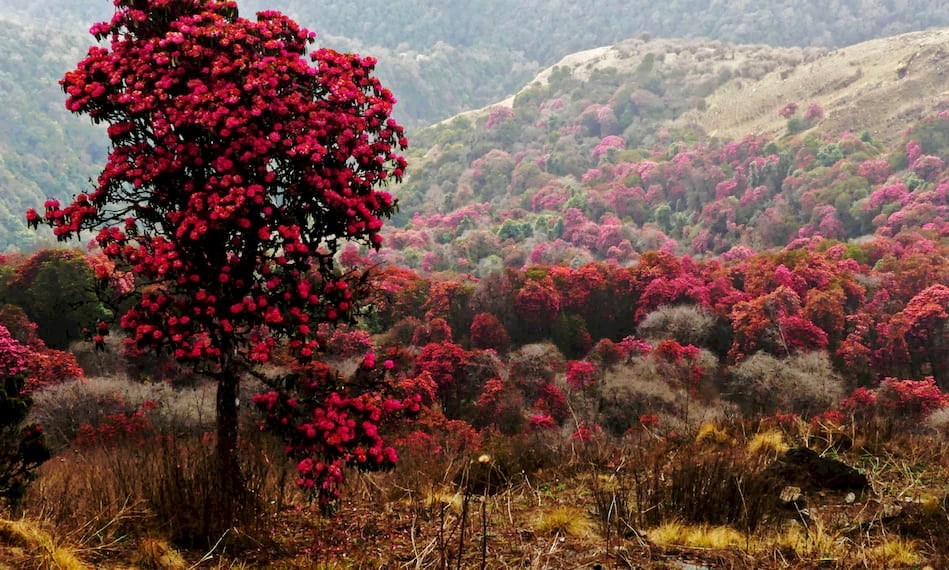 The many types of wildflowers that bloom in the springtime above 2,000 meters, particularly the breathtaking vista of rhododendron flowers, orchids, and magnolia blooms, are among the highlights of spring trekking in Nepal. The Annapurna and Kanchenjunga regions, in particular, will transform into a stunning garden of wildflowers in March (in the spring), which will undoubtedly catch your eye as you travel there. In addition to this, there are a few festivities that take place in Nepal throughout the spring season, like Holi (Color Festival), Shivaratri, and Buddha Jayanti, which give your spring trekking in Nepal extra flavor.
Please,click here for popular spring trek in Nepal.
Major Highlights of the Spring Season in Nepal
Clear Sky and Warmer Days
During the start of the spring season, the temperature gradually starts to increase. The pleasant weather and clear climate make the journey in any way elsewhere so wonderful. The end of winter also stops the heavy snowfalls and unclear and unpredictable climate changes. People trekking in March found white hills and mountains rising top above the beautiful and lush green alpine forest and vegetation presenting beautiful landscapes.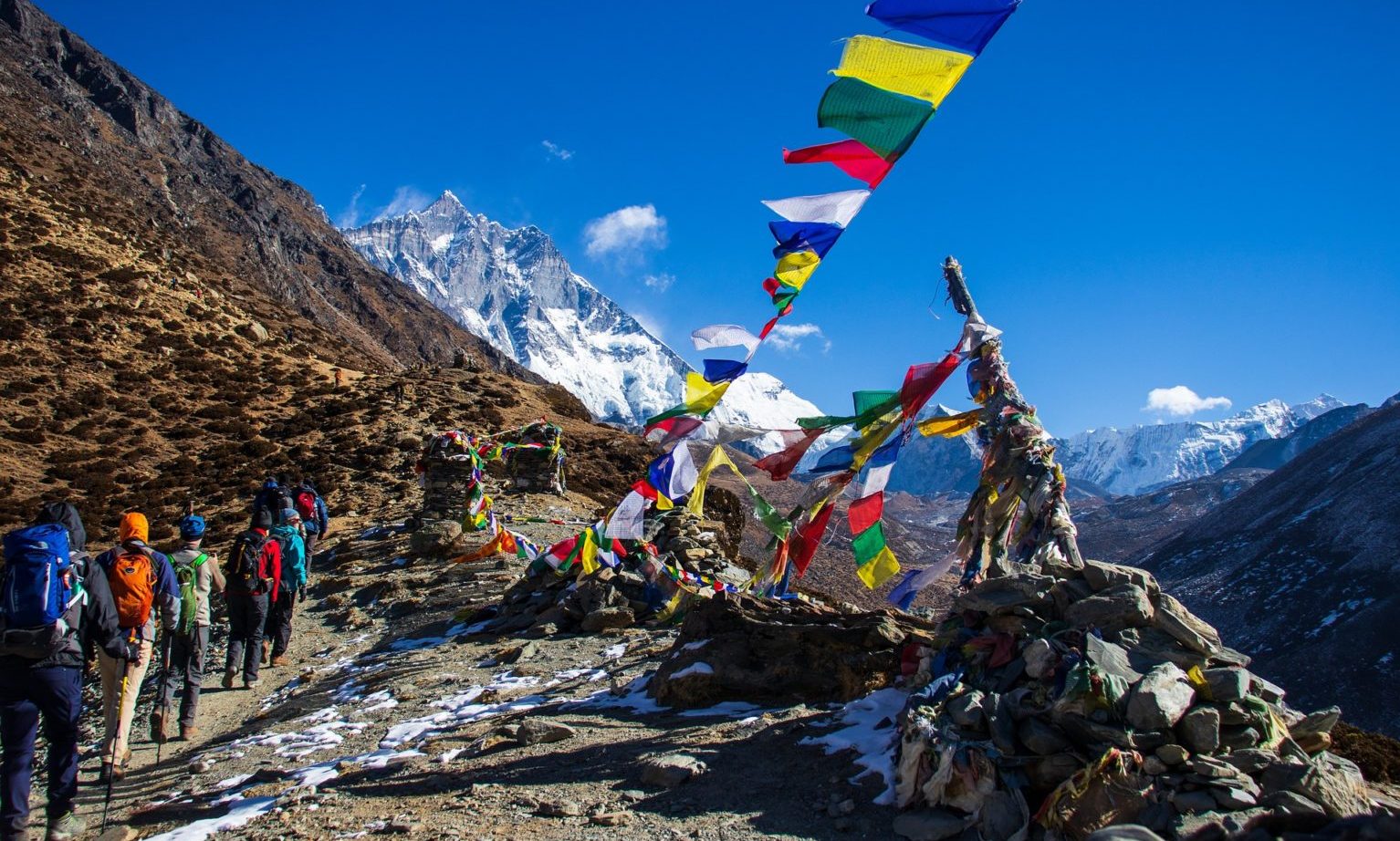 During the spring season, the temperature is mildly warm at lower altitudes and quite a moderate temperature at higher altitudes over 4,000m, which provides spectacular and stunning views of snowy mountains. The days are mostly clear and fine, while sometimes there might be clouds around lunchtime or in the afternoon, which is also a great time for reading books and cherishing the mountain's climate. Sometimes when you begin to worry about the next day's weather, the evening turns magically clear and clean.
Colorful Forest and Blooming Trails
During March, the trees and the plants get their new buds and start to bloom to show an authentic essence of nature. Most of the off-the-beaten trekking trails look like outstanding scenery with green vegetation in the pasture and grassland, amazing lush green alpine forest with their colorful new buds and flowers, and a clean and clear sky on a pleasant sunny day with blue sky. The leaf of the many plants cover your trekking trail sometimes and it shows the beginning of new greenery in nature.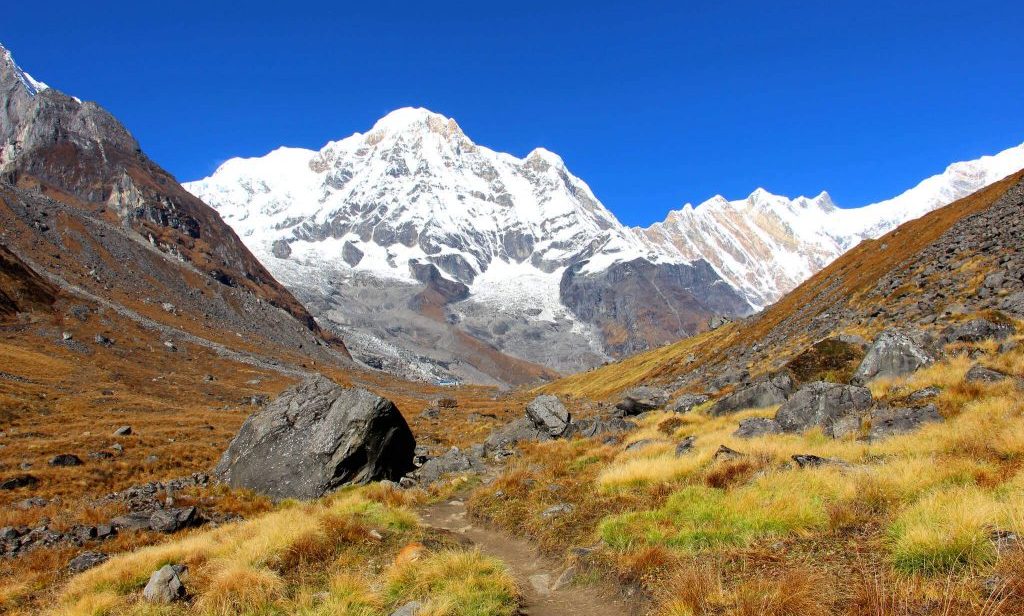 Blooming Rhododendron and Numerous Wild Flowers
The best part of Trekking in March and one special thing is the blooming Rhododendrons trees and other wildflowers in the alpine forest of the mountain region. In March every type and species of Rhododendron bloom; some with redbuds and some with white, yellow or pink, or any others. When they start to bloom in March, the whole forest will be more beautiful and you can easily identify which one or which trees are the Rhododendrons. Nepal has more than 32 species of rhododendron flowers that blossom in the mountain region which are unique in their sizes and diverse in colors.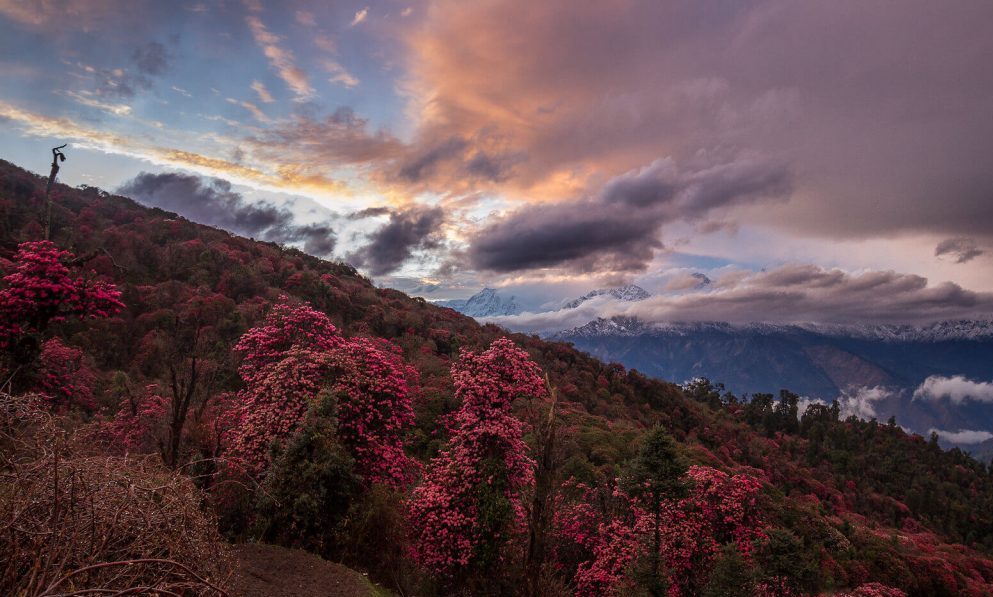 You can explore Laliguras named Rhododendron flower festivals in the Helambu region of Nepal during Spring.
Blue Poppy
Blue Poppy is a famous flower that grows above 4600m to 5600m, widely spread in Langtang Valley, Dolpo region, Everest reason, and other Himalayan trekking regions of Nepal.
Yellow Poppy
Yellow Poppy grows in groups up to a height of 3-6ft tall and blooms at an altitude between 3000m to 4500m, and it spreads in Annapurna Trek region, Langtang Valley, Makalu Area, Everest Area, and other Himalayan trails too.
Staggering Mountains View
After long and heavy snowfalls during winter, the falls stop with the arrival of spring. The rocky Himalayan peaks are dressed and covered with white snow and giant mountains provide a majestic experience in your spring trekking in Nepal. The clear weather and clean sky dominate all the tiredness and hard walking when you see panoramic views of the stunning world's highest mountains from the foothills.
Low Risk of Unfortunate Incidents
Many trekkers and climbers have been passing away every year due to their bad timing for such mountaineering activities. But March is often recognized as the best and low risky time for any mountaineering activities such as trekking, expeditions, and peak climbing. During March neither snow falls or any heavy rains. There is one thing and that is the pleasant weather on a sunny day and clear blue sky. There are low risks of floods, landslides, storms, snowfalls, avalanches, or any other unpredictable disaster. The climate is also quite predictable and assumable. In general, the month of March in the spring season is the best time to trek in the high mountains in Nepal. As all those 4 months are trekking in Nepal at the best time, March is more special with one special thing; the blooming Rhododendron trees and their forests. If you are looking for any Trekking in Nepal this spring and especially in March then hurry up and just catch this special trekking time.
Also Read: Top Trekking destination in Nepal.
Highlights of Spring Season in Nepal
Beautiful forest and blooming trails, where you can get to explore the different colors of Rhododendrons and other spring flowers.

Picturesque trail

Clear views and amazing clear weather make your treks easy

Incredible views of the giant mountains like Everest, Manaslu, Annapurna, Kanchenjunga, and Fishtail

Green views of farms and hills, mainly in the lower regions

Warm temperature, thus fewer loads of clothes

Incredible views of glaciers, waterfalls, valleys, lakes, streams, and many suspension bridges

Low risk of any disaster and unfortunate incidents
If you are looking for any Trekking in Nepal this spring, then hurry up and just catch the amazing glimpse of flowers in the spring. Spring treks in Nepal are possible in all top trekking destinations in Nepal. There are many regions with hundreds of trekking routes in Nepal. Luxury Holidays Nepal offers Trekking in Everest Region, Luxury Trekking in Nepal, Annapurna Trekking, Langtang Trekking, Dolpo Trekking, Mustang Trekking, Rara Region, Manaslu Trekking, Kanchenjunga Region, Dhaulagiri Region, Simikot and Mt. Kailash Region is a popular region to trek.
Luxury Holidays Nepal (LHN) is one renowned and popular trekking agency in Nepal offering lots of Trekking packages in the Himalayas. Everyone is offering special packages with lots of special offers but the things that make LHN different from other is our work and working style; we focus on the first-hand experience of everything through the hand of expert locals and believe in customers' satisfaction with a lifetime experience through Appearance rather than explanation.
For more tours and treks packages in Nepal, please, click here.
If you need any further information, please contact us.