Nepal, the world's second-wealthiest water country, has abundant natural water resources all around the country. Around Kathmandu, there are numerous hidden aquatic paradises. Some are well-known tourist attractions, while others were only recently found. There are many large and beautiful rivers, lakes, streams, cascades, and other natural features in Nepal that attract visitors from all over the world. However, gorgeous waterfalls are also one of the main reasons that travelers visit Nepal's various destinations. Aside from mountain ranges, secluded locations, temples, and wildlife, visitors will undoubtedly appreciate the water paradise.
Monsoon is one of the best times to chase all the water paradise around Kathmandu. There are numerous hidden waterfalls in the Kathmandu Valley that you should explore. The following are some of the water paradises around Kathmandu that you must visit:
Hidden Waterfalls around Kathmandu
Jhor Waterfall
Jhor Waterfall is one of the most popular water sports in Kathmandu valley. It is widely known among Kathmandu residents, and it is located in Tokha, Mahankal. The major source of this waterfall is water from Shivapuri National Park, which is located on the border of Kathmandu and the Nuwakot districts. The Jhor waterfall is one of the popular tourist attractions, with many people flocking to see it. This location is also known for the temple (Baundeshwor) that is located there, therefore you can see the temple as well as enjoy the waterfall while visiting this location. The temple was not built by humans, but rather by nature.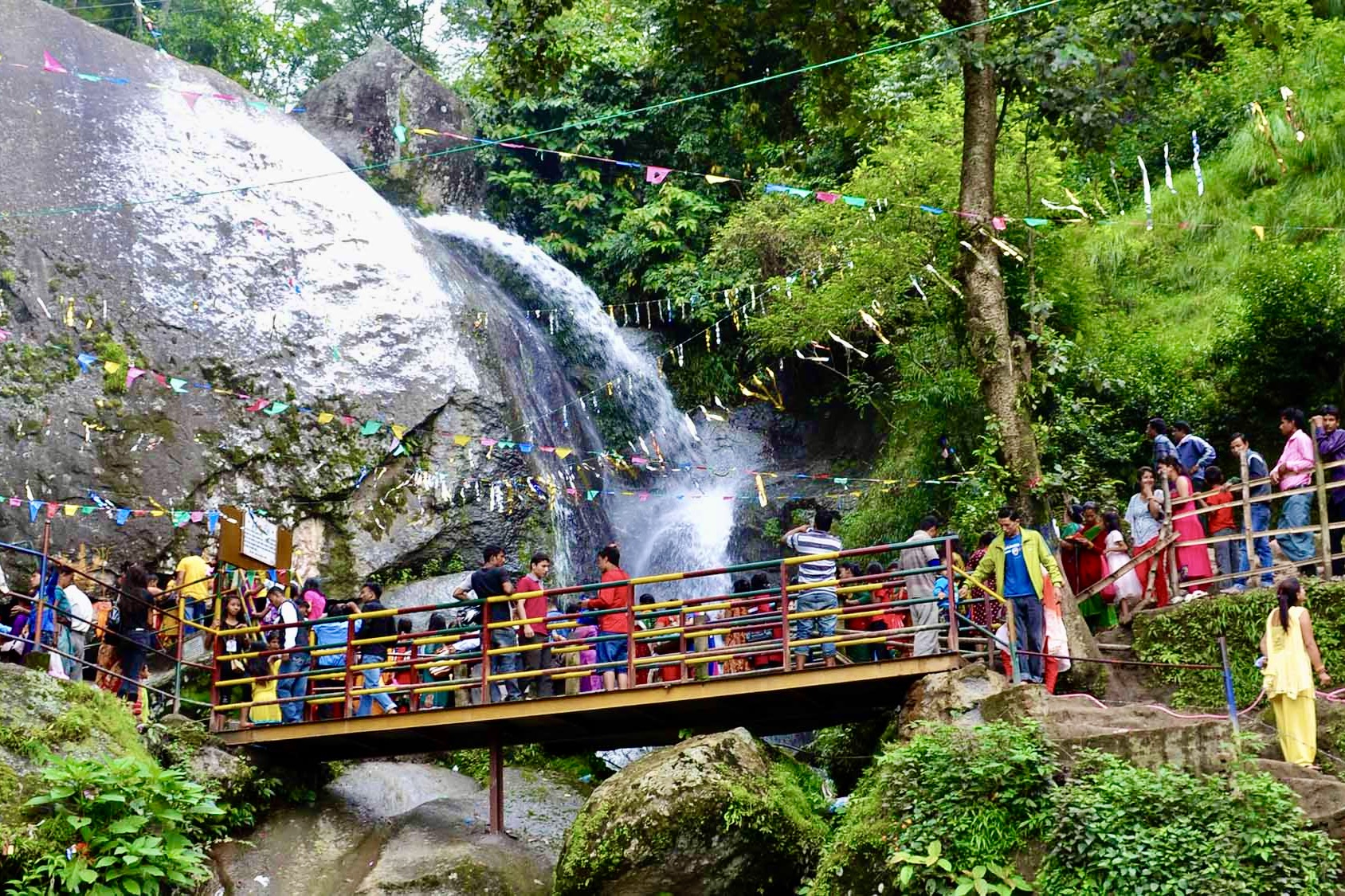 The temple is unique in that it is located within the Baundeshwor Cave and has a long history, which will be interesting to know by visiting there. And besides all this Jhor falls is also very well-known as a perfect picnic area for spending a good time with your loved ones with a fair budget. A visit to this waterfall provides an opportunity to be in the midst of all that has been expelled from the city: greenery, tranquility, fields, forests, and so on. You can drive your own car, hike, or ride your bike to this location. Because the surrounding area is continually expanding, you have a wide range of possibilities from which to pick.
Simba Falls
Simba Falls is one of the unseen water paradises that was only recently discovered. It is located in Manikhel Village, a rural, simple but traditional village in Nepal's Lalitpur district, about 40 kilometers from Kathmandu, the capital of the country. It's a Tamang village on the outskirts of Kathmandu, at an elevation of nearly 2,000 meters. The village's outlook is stunning, and the residents are really warm and polite. Manikhel has recently increased in popularity as a result of the discovery of "Simba Fall," a hidden gem.
In Manikhel, Simba Falls is a collection of more than 5 small waterfalls. The Tamang call this waterfall Simba Waterfall, which means "beautiful waterfall," since the water is always cool. To reach this location, walk 45 minutes to an hour from the last transportation stop and take in the spectacular waterfall. Everyone who appreciates spending time in nature and a quiet environment will fall in love with this waterfall right away because it is situated in a serene and green setting. The waterfall and flora of this location are so pure that they will make you forget about your worries and sorrows and make you feel gorgeous and pleased.
Sundarijal Waterfall
Sundarijal is often known by the name of " Beautiful Water", which is located 17 kilometers northeast of Kathmandu Valley. This is one of the very well-known water paradises of Nepal. The small settlement of Sundarijal serves as a gateway to both Shivapuri National Park and the famed Kathmandu Valley Trekking. This aquatic wonderland is popular among adults and teenagers for day hiking, swimming, waterfall viewing, picnics, and cycling. From here, you can enjoy the gorgeous Kathmandu valley and the beautiful Tamang town of Mulkharka. In Sundarijal swimming and canyoning in the waterfall are two of the most popular activities among visitors and locals.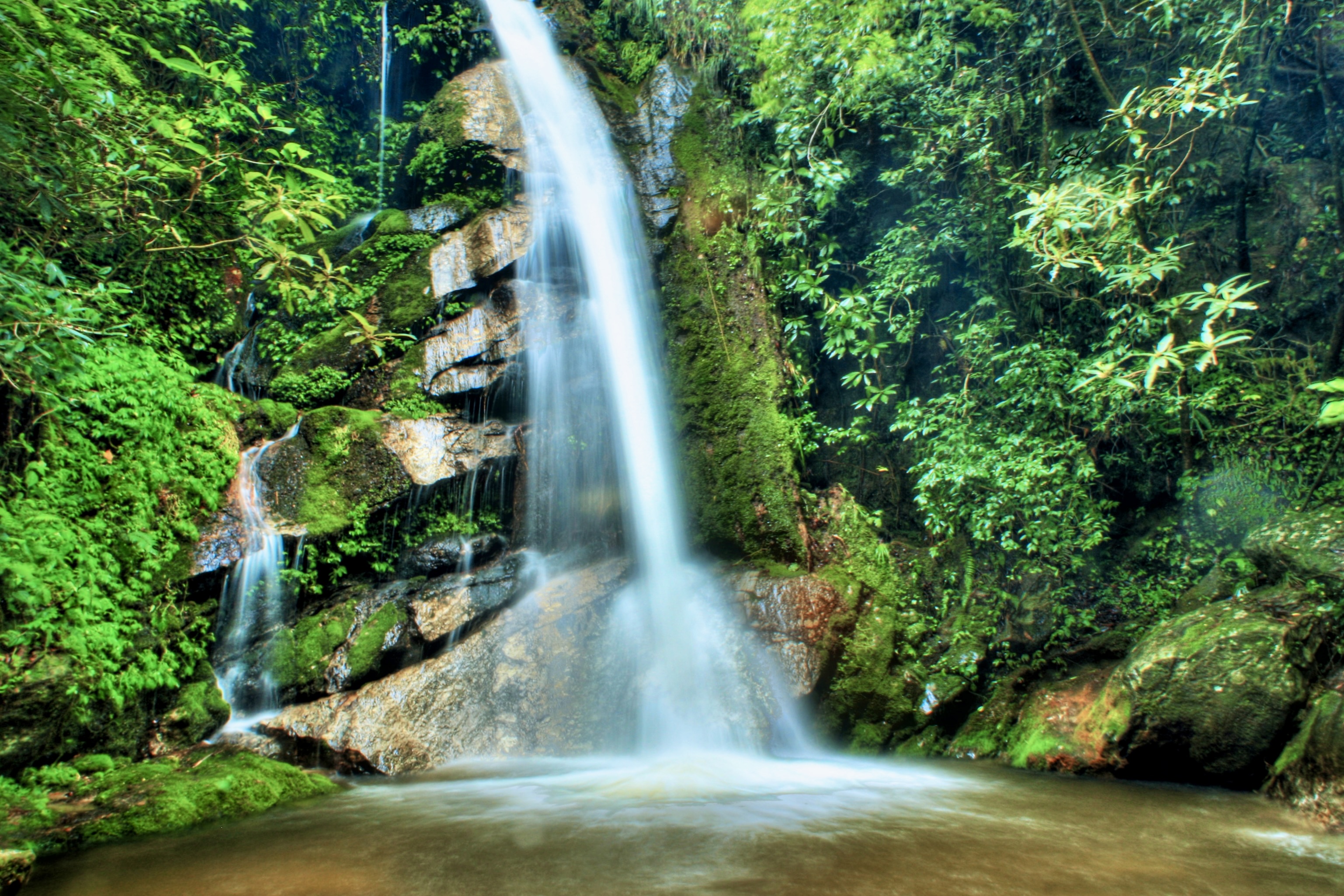 On the other hand, Canyoning in this well-known location is better done with an expert guide because it can be dangerous without one. Apart from that, many people come here to enjoy the waterfall and bathe in the spring water, and some religious people come here because there is a temple dedicated to the goddess of beauty (Sundari Mai), and it is believed that washing our faces with the water from this place will make us beautiful. This waterfall, as well as the pure water from Baghdwar, the Bagmati River's beginning point, are becoming increasingly popular. You must visit here at least once while in Kathmandu. Don't miss out on this fantastic location.
Kageshwori Jarana
Kageshwori is one of the important Hindu holy sites, which is located 25 kilometers northeast of Kathmandu, the capital of Nepal. The name Kageshwori is a combination of two words 'Kag' which refers to the Crow & 'Ishwori' refers to God or Lord. Crows are revered because their crawling represents misery and mourning. Because believers believe that the crow is god's messenger, they revere them and feed them excellent food. In this temple, there is a crow statue. In Tihar, a large number of people visit this location to worship the crow. Apart from that, there is a wonderful waterfall " Kageshwori Jharana" in this location that is not well-known by the general public but is stunning and eye-catching. Recently lots of people visit here to enjoy the beautiful waterfall and its beauty. People can see this gorgeous waterfall next to the shiva temple. Your journey to Kageshwori Jharana will be quite rewarding due to its holy, serene, and natural surroundings.
Please, click here for more information about lakes in Nepal.
Bishnudwar Waterfall
Bishnudwar is the source of the Bishnumati River, which is one of Kathmandu's most important streams. Bishnumati also has religious significance. The name literally translates to "Lord Bishnu's Beloved." Both Hindus and Buddhists consider this river sacred. Bishnudwar is situated on Shivapuri hill. A short walk from Budhanilkantha leads to the Shivapuri hill, where the Shivapuri National Park begins. The entrance to Shivapuri National Park can be reached after a half-hour walk from Budhanilkantha. A short amount of fee must be paid at the entrance gate to get access to the national park.
As soon as you walk through the gate, you can smell the wonderful scent of nature because you're surrounded by all types of greenery. The sound of a waterfall through nature can be heard as we come closer to Bishnudwar, and the dampness can be felt all around. Bishnudwar is situated in a cave-like environment. The river emerges in the form of a spectacular waterfall, and there are hollow wet caves all over. You can soak in the breathtaking scenery of the surrounding area, which includes a stunning waterfall. Playing in the water and spending time there will undoubtedly make your visit to Bishnudwar a memorable one.
Nagarkot waterfall
While Nagarkot is only 25km far from Kathmandu city, after reaching there you feel like reaching into nature heaven. Driving toward Nagarkot will be a little bit rocky and bumpy but once you are there, you will feel every little struggle is deserving of going on such roads. Fresh air, lush green hills, chattering birds, and cascading waterfalls will make you joyful and calm your mind. Even during the monsoon season, the valley view from Jalpa Devi temple is breathtaking. After a short hike from that location, you will come across a stunning waterfall. The waterfall is just stunning. It's a hidden gem, and it feels like we have the entire place to ourselves. The water is cool, but witnessing the waterfall will calm and rest your thoughts. Your visit to this location will be worthwhile and memorable thanks to the dense forest, rich vegetation, and waterfall. As a result, you must see this when in Kathmandu.
Also Read: Best Rafting Tours in Nepal.
Tindhara Waterfall
Tindhare Jharna is a well-known waterfall in Nepal's Bagmati Province, located in Kaphal Danda, Roshi Rural Municipality of Kavre district. Bahubali Jharna is another name for this waterfall. The waterfall is 300 meters high and is located at an elevation of 1800 meters. Until the photo went viral on social media, no one had heard of this waterfall. During the pandemic in 2020, this location was very popular. Because the beautiful waterfall resembles the waterfall in the hit Bollywood film "Bahubali," people began referring to Tindhare Jharna as Bahubali Jharna. Tindhare Jharna is the name of a waterfall that has three big water streams tumbling over the stones, creating a beautiful sight.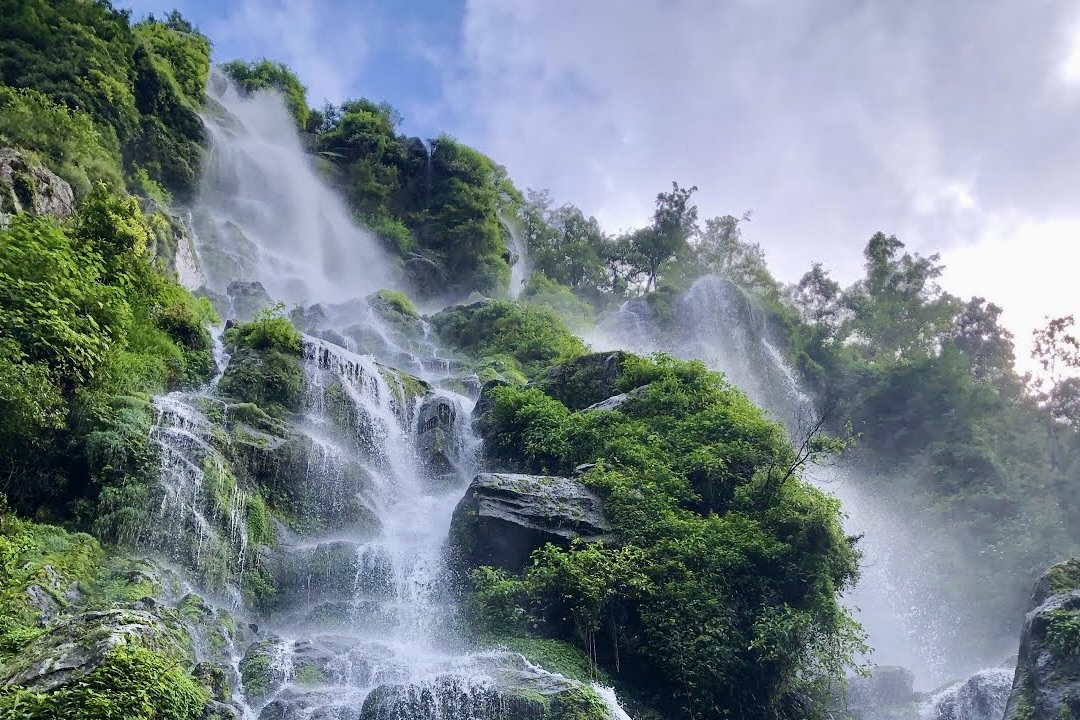 The journey from Kathmandu to Kafal Danda will take approximately 3.5 hours, and the trek to the waterfall will take approximately 45 minutes. Tindhare Jharana is approximately 45 kilometers from Dhulikhel. The waterfall, which has a fascinating perspective, is the nicest thing to see in that place, as it wipes all your exhaustion and hardships from the journey. The stunning view of the hills carpeted in green and deep forests, the mountains, and the quiet and joyous environment is enough to make you forget about your troubles. The sound of water crashing over stone produces a sense of calm within you. These locations are wonderful heaven for water enthusiasts and those who want to appreciate the cold, pure water of the Kathmandu Valley's waterfalls.
Please, click here for the various tours & trekking packages in Nepal.
If you want more information, please contact us.